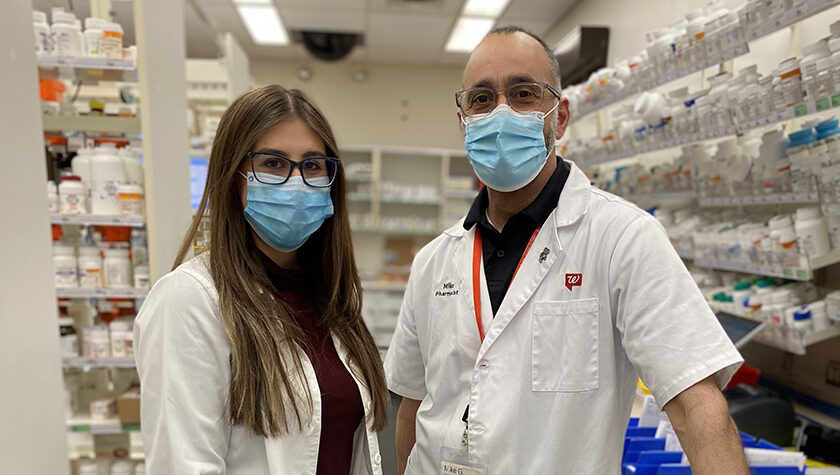 7
June
Michael and Madeline Gallo work side-by-side to protect their Kenosha community
Katie Ginder-Vogel
When Michael Gallo (BS '91), a Walgreens pharmacist in Kenosha, Wis., needed additional help administering COVID-19 vaccinations, he knew exactly whom to call: his daughter Madeline Gallo (BS '17).
Madeline, a third-year PharmD student at the University of Wisconsin–Madison School of Pharmacy, has worked at the Walgreens in Cross Plains as a pharmacy tech for the past three and a half years. When she heads home to Kenosha on weekends, instead of relaxing, it's straight to work: She and her dad have been administering COVID-19 vaccines together.  
"When we work together, we're in the work zone, even though I still call him Dad. We're a well-oiled machine."
—Maddy Gallo
"It was really cool to be able to help him out, because I know how stressful it can be sometimes in a retail setting," she says. "He could do his pharmacist duties, while I handled all the shots." 
Patients would ask Madeline how many shots she was administering each day as a pharmacist, and she would explain that she was a student pharmacist there to help her dad. 
"They thought it was super cute that I was helping him," she says. "I like the experience; he's my best friend." 
Bridging the gap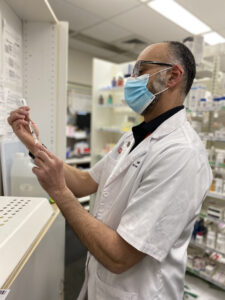 Even pre-pandemic, Madeline regularly picked up Saturday shifts at her father's pharmacy. 
"When we work together, we're in the work zone, even though I still call him Dad," she says. "We're a well-oiled machine. It's so cool for him to trust me as a colleague."
As a School of Pharmacy alum, Mike Gallo was relieved to have a reliable, highly trained pharmacy tech available to administer vaccines, and he knew it was a win-win situation.
"We needed help, and she was certified to immunize, so I thought it would be a great idea to have her come get experience with immunizations," he says. "On weekends, we have lighter staff but many patients seeking COVID-19 immunizations, so I said, come help me out for two to three hours and do shots."
Mike says he enjoys having his daughter as a colleague. 
"I've been at this for a while, and she's on the cutting edge of new techniques and training as a student at the School of Pharmacy, so I'll quiz her on things," he says. "If I get a drug question, I ask her first, and we bounce it off each other. It's great to know what's happening with her classes and education — how it's changed and what's new. It's valuable." 
The Gallo family has produced numerous pharmacists.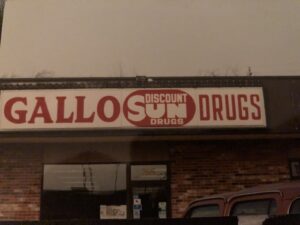 "We are a pharmacy family," says Mike. "Maddy's grandfather was a 1950 graduate of the UW–Madison School of Pharmacy, so she's a third-generation Badger."
Mike's father, Michael Gallo (BS '50), owned Gallo Drugs in Kenosha for 40 years.
"I was a delivery boy and stock boy in my family's pharmacy before I went to pharmacy school," says Mike. "Then I worked for him as a relief pharmacist and helped him wind down the business when he was ready to retire. I worked for my dad, and now my daughter works for me. It's a family thing."
Two of Mike's uncles were pharmacists at Walgreens and eventually hired Mike to work there, too. Mike's brothers, Jim Gallo and Gary Gallo studied pharmacy and went into academia and industry, respectively.
The next generation
When Madeline, who also holds a bachelor's degree in Pharmacology and Toxicology from the School of Pharmacy, began pharmacy school, she wasn't planning on a career with frequent patient interaction. In 2022, she'll be graduating with a dual PharmD/Master's Degree of Public Health, and had been considering roles in managed care pharmacy or a position to advance population health.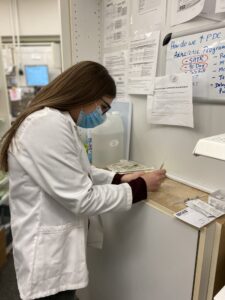 But administering COVID-19 vaccines has made her more open to the idea of working in patient-facing roles.
"While I'm giving COVID-19 vaccines, everyone is so happy to see me and come to the pharmacy," she says. "It was exciting to help them and have such positive experiences with patients." 
She has been a MEDiC referrals coordinator since her first year of pharmacy school and is a Women's Health co-chair for the Wisconsin Society of Pharmacy Students. With all of her volunteer and leadership experience, Mike is confident that Madeline has a promising pharmacy career ahead of her.
"She's got a lot of options, and she's a thinker — she'll discover the area of pharmacy that she's most passionate about," he says. "I think she'll be great at whatever she does and have an impact."
She says her education at UW–Madison has prepared her for her pharmacy career and to improve the health of her community.
"UW–Madison is such a great school in terms of academics, innovation, and research, and much of the community relies on UW students and faculty," she says. "Going to the School of Pharmacy, I felt that responsibility. Through my education and involvement in community organizations, I feel prepared to help."