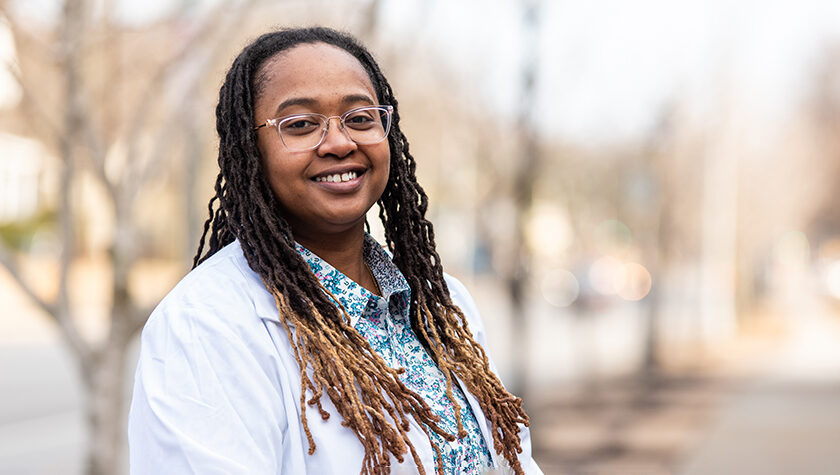 4
March
Alumna Treashure Wade starts an outreach initiative to help more individuals understand and adhere to their prescriptions 
By Emma Gran
Working as a full-time overnight pharmacist at Walgreens, Treashure Wade (PharmD '18) already had a full schedule. But her passion for sharing her knowledge and improving health outcomes in her community led her to take on a new project during daylight hours.
In January 2021, Wade started her own outreach initiative — Pills 4 Purpose — to expand her reach beyond the doors of her workplace and help any individual seeking answers to medication or health-related questions on a personable level.
"I always felt like I wanted to be that person to help others in whatever way I can," says Wade, an alumna of the University of Wisconsin–Madison School of Pharmacy. "But after getting into practice, I didn't feel I was being accessed enough. I wanted to find a way to give back and be able to educate others beyond the patients I see in the pharmacy."
"Whatever a patient's needs are, I want to be there for them as a trusted individual."
—Treashure Wade
Through Pills 4 Purpose, she's connecting with community members who may not trust health care providers or feel like they can or should ask their physician or pharmacist questions, which is a particular concern in the African American community. While thinking about these patients, who statistically see poorer health outcomes due to systemic racism and unequal access to services, Wade began conceptualizing ways to broaden her impact.
"Because of the patient population that visits my pharmacy location, I wasn't reaching a lot of people who look like me," she says. "So, I asked myself, 'How can I get myself to them?' I'm either going to have to move my job to a more diverse area where more African Americans are, but if I'm not going to do that, how can I make myself accessible to them now?"
Accessible expertise
Wade's central goal in starting Pills 4 Purpose is to ensure all people have the resources to understand the intended function of their medications and to take them correctly, so they can effectively improve their well-being and prevent harm from adverse drug events or reactions, which account for nearly 700,000 emergency department visits and 100,000 hospitalizations annually. A recent study found that preventable medication errors impact more than 7 million patients and cost almost $21 billion each year.
"If you're not using prescriptions the correct way, if you're abusing it, or not taking them when you should, then you're not getting the full benefit out of it and it could result in negative health outcomes," says Wade.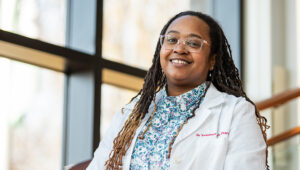 Through Pills 4 Purpose, anyone can submit an anonymous question or set up a free appointment with Wade via phone and email, Facebook and Instagram, or video call. Utilizing these digital platforms, which are low-cost and generally accessible, allows Wade to connect with people from all over the country — not just those living in her neighborhood.
So far, Wade has successfully engaged with individuals on a variety of medication-related topics, like the safety of mixing different prescriptions, medication organization tips, and side effects. Wade says she is also receiving questions she wasn't entirely expecting about insurance coverage and cost, about which she is more than happy to provide information and suggestions for where to find answers or solutions.
"People are responding and want to engage with me, which has been so cool," she says. "They're already finding new ways to connect with me and are reaching out for things that I didn't expect to be useful for."
Moving forward, Wade is excited to continue growing her social media presence and expand reach. She hopes the initiative will allow her to build lasting relationships with patients and extend her services into other realms of health care and well-being.
"Whatever a patient's needs are, I want to be there for them as a trusted individual," Wade explains. "If they want me to listen in on their conversations with their prescriber or help them navigate a recent discharge, that's something that I would love to do in the future."
Cultivating a passion for community outreach
During her years as an undergraduate student at Northern Illinois University studying chemistry, Wade worked in several labs, learning how to compound and create medications like aspirin and Tylenol. Participating in the process sparked her interest in pursuing a professional career in pharmacy.
At the same time, Wade made it a priority to return to her hometown of Freeport, Ill., to tutor students from her high school, as well as older adults at the local community college. She offered academic support in science courses and learned how to alter her communication style and teaching methods to meet each individual at their own unique level.
"It's rewarding to hear the feedback and know you actually make an ongoing impact in a person's life."
—Treashure Wade
"My interest in the sciences, as well as being able to explain concepts and educate others, are the two things I have been passionate about since the very beginning of my own education," Wade says. "Having those two things intertwined together in pharmacy was perfect for me."
The proximity to her home and academic prestige of the UW–Madison School of Pharmacy compelled Wade to pursue her PharmD. Growing up, Wade can recall many instances in which older adults dealing with health issues in her community would travel to Madison to access high-quality healthcare and specialists. These memories stuck with Wade and played an influential role in her decision to enroll.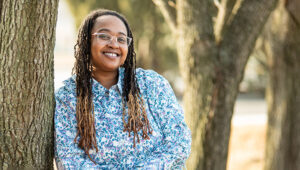 Before graduating in 2018 with a Doctor of Pharmacy degree, she gained experience in data entry and community interventions under Professor Eva Vivian, of the School's Pharmacy Practice Division, who ended up being an influential mentor in Wade's life. As a PharmD student, Wade contributed to Vivian's research and community outreach efforts for several diabetes education programs.
"I loved following her around, and I did that a lot," she says. "The way she worked to get involved in communities really influenced me to do the same thing."
In Wade's work as an overnight pharmacist and at Pills 4 Purpose, she finds building trusting relationships with patients and making an impact in their lives the most fulfilling part of her role.
"There are people who will wait until I'm back at work to call or come in for certain things because they want me to be the one responsible to help manage their medications, their pickups, and their questions," Wade says. "It's rewarding to hear the feedback and know you actually make an ongoing impact in a person's life."