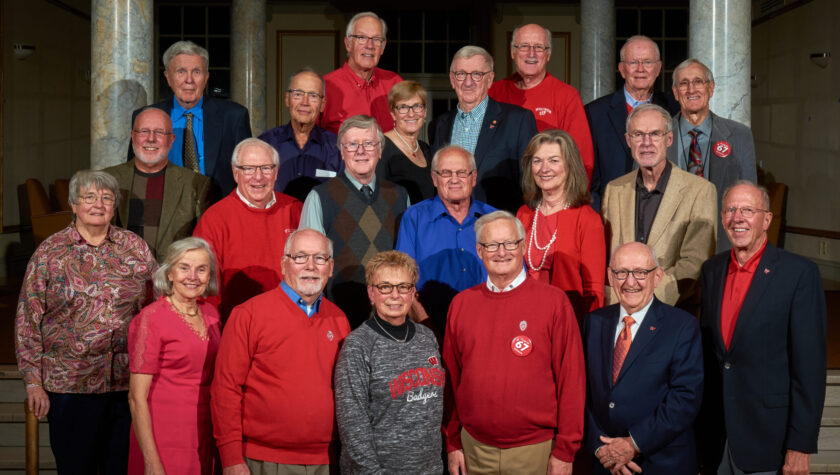 11
September
By Katie Ginder-Vogel
In 2017, the University of Wisconsin–Madison School of Pharmacy Class of 1967 celebrated 50 years since their graduation. In the elapsing decades, these individuals have shaped pharmacy and research nationwide.
"The Class of '67 was a remarkable class, with two presidents of the American Society of Health-System Pharmacists (ASHP), including one of the first female presidents; the editor of the ASHP journal; several prominent researchers in academia and industry; and numerous leaders in a variety of pharmacy-related organizations," says Ted Collins (BS '67), who retired as a researcher in UW–Madison's Center for Health Systems Research and Analysis.
With Tom Thielke (BS '67, MS '69), former director of pharmacy at UW Health, and Bill Devine (BS '67), owner of Pharmacy Consultants, Collins helped organize a class reunion dinner, during which they discussed the prospect of developing a class fund — one of the first such funds created at the School — to help students pursue similarly fruitful and meaningful careers.
"We had a unique class; we were very close and did lots of fun things together for many years, so we said, let's see if we can do something," says Devine.
"I am fortunate for what I've been able to get from the School and attain in my career, and I want to give back."
—Thomas Thielke
The idea was met with enthusiasm. After two years of fundraising and allowing the fund to mature, the Class of 1967 Scholarship was awarded for the first time in the 2019–20 academic year, to PharmD student Lauren Finley.
"The Class of 1967 Scholarship has helped me in a variety of ways," says Finley, who is starting her fourth year in Fall 2020. With the financial support, she says she can worry less about logging enough work hours to make ends meet, and instead pour her energy into studying.
"This will ensure that I am able to provide the best care possible for my future patients as a pharmacist," she says. "I'm very grateful that the School's alums have chosen to give back in this way."
Motivated by gratitude
As Collins notes, members of the School of Pharmacy's Class of 1967 forged diverse and distinguished careers. Thielke won an ASHP John W. Webb Lecture Award in 2008, as did his classmates Bill Zellmer (BS '67) and Marianne Ivey, in 2004 and 2007, respectively, in addition to several School of Pharmacy alums of different years. Ivey and Thielke also both served as presidents of ASHP, guiding the organization and the direction of the field at a national level.
Ivey notes that at a 2006 conference of International Pharmaceutical Federation (FIP) in Salvador Bahia, Brazil, six members of the Class of 1967 gathered for a photo. Among the group, Each person in the group was a former president of ASHP or the American Academy of Pharmaceutical Scientists, a board member of the American Pharmacists Association, deputy director of ASHP, or editor of the American Journal of Health-System Pharmacy. Two had also been president of FIP's Hospital Pharmacy Section.
"I feel very strongly about what I've been able to give back to the School of Pharmacy. I am fortunate for what I've been able to get from the School and attain in my career, and I want to give back," says Thielke, who like many of his classmates has also sponsored several other School of Pharmacy scholarships, including the Tom Thielke Leadership in Action Scholarship for PharmD students. 
"Wisconsin has one of the nation's leading pharmacy schools, and people stepping up and donating to funds like this helps continue the School's legacy of excellence, which is something we all take very seriously," says Devine. "Our class is phenomenal, and they are leaders in the profession throughout the country. It is a remarkable class, and this scholarship reflects the camaraderie and closeness our class had." 
Evelyn Bluhm views the Class of 1967 Scholarship as a way to support the students who will lead the profession in the future.
"We consider ourselves an exemplary class and with this scholarship wanted to further the education of bright, motivated young people in our chosen field of pharmacy," says Bluhm. "The awardees need dedication and perseverance, and with that, the world will open for them."
Collins has a similar hope for the scholarship.
"I would like to see the UW–Madison School of Pharmacy continue to produce enlightened leaders in pharmacy," he says. "These students are being educated at a great school, have lots of potential mentors in all fields of pharmacy, and share something with all Badgers: They know how to have fun."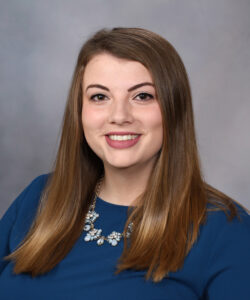 Finley is pursuing that goal. She's already completed the School's Path of Distinction in Leadership, which connected her to other students, faculty, and alumni, and after graduation, she's planning on a career in ambulatory care pharmacy.
"Working as the medication expert in an outpatient setting is a way to promote the utilization of pharmacist's knowledge and encourage the transition of pharmacists to become recognized as providers," she says. And she is excited for the opportunity to form impactful, long-lasting patient relationships.
"Being in a role where pharmacists have autonomy within their practice and making those vital relationships with patients is something that I look forward to in my future career," says Finley.
Pharmacists, like most health professionals, are inherently motivated to help others, one way or another. This scholarship is designed to support a student pharmacist, who in turn is training to help thousands of patients over the course of a career.
Devine sees this theme popping up time and again among his classmates, many of whom volunteer for nonprofit organizations to improve the world of pharmacy and the community. This is no coincidence, he says.
"That's part of what we learn as UW students — the Wisconsin Idea means we help better our state and the world," says Devine. "I talk to my classmates about various organizations they belong to and give huge amounts of time to and support financially, and it's very rewarding to know I've been associated with all these very fine people for all these years."