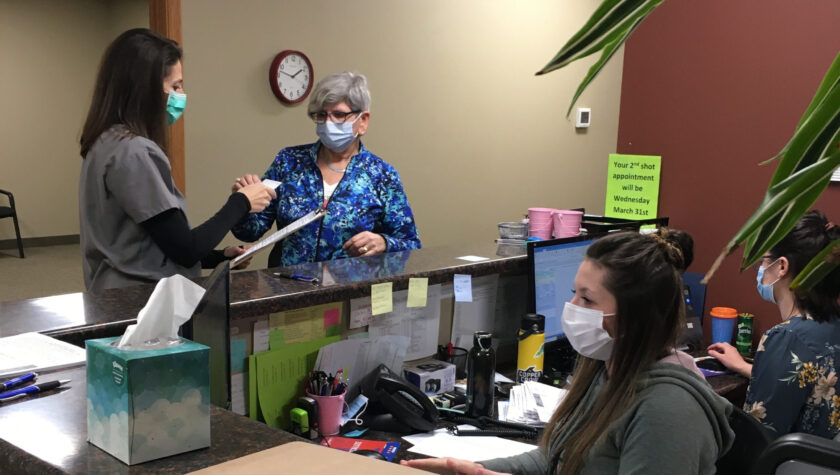 11
March
School of Pharmacy alumni and a PharmD student establish a vaccination program to serve rural Northern Wisconsin
By Katie Ginder-Vogel
In December, following the news of the Pfizer-BioNTech COVID-19 vaccine receiving emergency use authorization from the U.S. Food and Drug Administration, pharmacist Paul Winger (BS '90) took a leap to protect his community: He purchased an $8,000 freezer that reaches the super-cold temperatures required for storing the vaccine, around -100 degrees Fahrenheit.
Winger owns three pharmacies in the rural Northwoods of Wisconsin: long-term care pharmacy LTC Rx in Chippewa Falls and two locations of The Medicine Shoppe, in Chippewa Falls and Menomonie. On January 19, the freezer got to store its first delivery, and Nick Batinich, a fourth-year PharmD student at the University of Wisconsin–Madison School of Pharmacy, got to administer some of the first doses.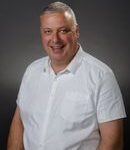 "I was there when we got the first doses on January 19th at noon, and LTC Rx was already scheduled to vaccinate residents at a couple of group homes that afternoon," says Batinich, who was on his ambulatory care Advanced Pharmacy Practice Experience (APPE) rotation at LTC Rx. "It was a super cool experience to go into the homes and see how appreciative the residents and staff were."
Batinich's preceptor, Jill Klay (PharmD '07), who is also a registered nurse, is the pharmacist in charge at The Medicine Shoppe in Chippewa Falls, where Batinich spent a community pharmacy rotation, and spends one day a week at the LTC Rx pharmacy across the street. 
"I was lucky to have Nick working by my side through all of this," Klay says. "What a great opportunity for him to experience this once-in-a-lifetime opportunity to help roll out a mass vaccination program."
"Giving COVID-19 vaccinations has been the most rewarding experience I have had as a pharmacist."
—Paul Winger
Klay, Winger, and Batinich spent weeks readying LTC Rx to launch its COVID-19 vaccination program — one of few available in the Northwoods — but they leapt at the opportunity to serve their community and guide Wisconsin to the other side of the pandemic.
"Giving COVID-19 vaccinations has been the most rewarding experience I have had as a pharmacist," says Winger.
Delivering doses
Pharmacists like Klay and Winger are playing a pivotal role in managing the COVID-19 pandemic, especially in rural areas that have limited access to clinics and hospitals. In these areas, pharmacies are crucial hubs for health information, patient care, and vaccine distribution.
"It has been a whirlwind with a sharp learning curve," says Klay. "I've been working some crazy hours but am thrilled to actually be able to do something to have an impact on this pandemic and get our community back to a healthier place."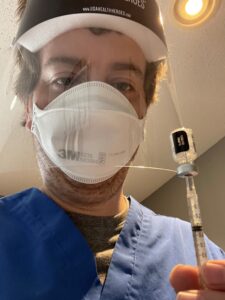 When LTC Rx received its first supply of vaccine, the team drove to about a dozen Chippewa Falls-area nursing homes with whom they have relationships to immunize patients, including one that was about 70 miles away.
At one of these homes, Winger was administering a vaccine to a 90-year-old patient, who could hardly contain her gratitude.
"As I was giving her the vaccine, tears were streaming from her eyes. She said to me in a choked up voice, 'I am so glad you are finally here to give me this vaccination. I have had three of my good friends die in the last two months, and I have not been able to hug any of my family members in a whole year,'" Winger recalls. "I had to hold back tears as she told me that. When this wonderful lady told me that, I felt more proud of being a pharmacist than at any other time in my life."
With the nursing home vaccinations ongoing, the team also set up a vaccine clinic inside the LTC Rx building to serve established customers of LTC Rx and The Medicine Shoppe Chippewa Falls who meet vaccine eligibility requirements.
"To have insight and see the whole process is really cool," says Batinich. "I learned about the prep work involved with the Pfizer vaccine, which has a longer process than other vaccines because it needs to be thawed and then diluted."
During his community pharmacy APPE rotation, Batinich helped Klay with the logistics of setting up vaccinations at nursing homes and at the LTC Rx on-site clinic, and during his ambulatory care rotation when the vaccine arrived, he was one of the main vaccinators for the first few days.
The team worked closely with Chippewa County Public Health to get a sense of how their vaccine clinics operated and to create patient consent forms. They also consulted with the police department across the street from LTC Rx to ensure they met safety protocols. Volunteer help from the community was crucial.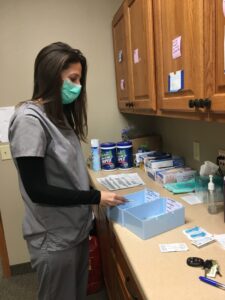 "We knew we needed a greeter for crowd control; we didn't want our line to turn into a group of 30 people standing around together," said Batinich. "Luckily, Jill's father volunteered to help and found friends to help, too. The greeters gave out consent forms in the waiting area outside the actual clinic."
In addition, Medicine Shoppe and LTC Rx pharmacy technicians played an important role in the vaccination clinic.
"The technicians were super vital, handling billing, writing paperwork, and filling out vaccination cards," Batinich says. "That was huge. Certified techs also went through the vaccination course to help immunize. It was a team effort."
Batinich, who has been trained on both the Pfizer and Moderna vaccines, says he administered around 300 of the 3,500 Pfizer vaccine doses given through LTC Rx over the 3.5 weeks between the vaccine delivery and the end of his rotation. By early March, LTC Rx Pharmacy in Chippewa Falls had administered nearly 5,000 first doses and over 8,000 total injections. The Medicine Shoppe in Menomonie, which received the Moderna vaccine, has given over 700 vaccinations.
Most patients came from Chippewa and Eau Claire counties, they had people coming from across the state — some driving as long as an hour and a half to receive their vaccine.
"We were a diamond in the rough, as far as having the vaccine," says Batinich. "Patients couldn't believe we had it as an independent pharmacy. Everyone was so grateful and appreciative."
Looking ahead
Now that the initial rush has waned slightly and the pharmacy team has established a streamlined process for vaccinating patients, Winger divides his time between the clinic, group homes, and nursing homes and has expanded the staff to assist with vaccination administration. LTC Rx sends a full-time registered nurse to vaccinate patients at area nursing homes, and Klay is on-site at the LTC Rx vaccination clinic.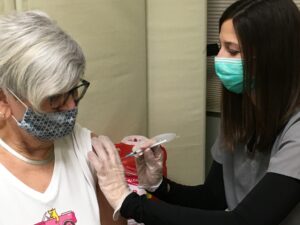 "I got a full sense of how directly we as pharmacists can impact patients' lives," Batinich says. "It opened my eyes to doing proactive patient care as a pharmacist, and I think it will positively influence the public perception of pharmacists. The profession of pharmacy has come into the spotlight with the vaccine, and seeing that first-hand was pretty impactful."
Batinich says his experience administering COVID-19 vaccinations and working alongside School of Pharmacy alums Klay and Winger has solidified his future career plans: to practice pharmacy in a community or outpatient setting.
"In a community setting, I feel like I'll be more able to talk to patients, and they're willing to discuss more about therapies in outpatient settings," says Batinich. "I was sad to leave at the end of my rotation. Words can't describe how awesome they are."