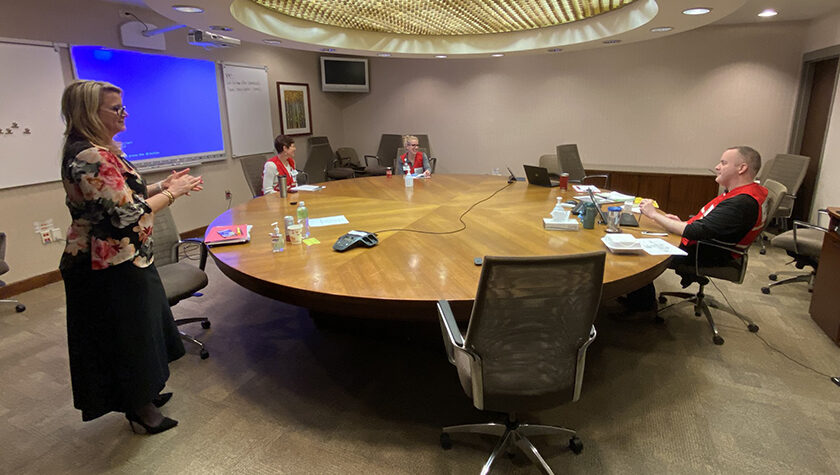 15
June
School of Pharmacy alum Nick Ladell (PharmD '11) leads hospital's response to COVID-19 crisis
Infectious disease experts have long predicted a pandemic, with some researchers even foreseeing a bat-hosted novel coronavirus spreading to humans. But no one could have known when it would strike.
When Nick Ladell (PharmD '11), for example, was asked to lead Aurora West Allis Medical Center's Emergency Management Committee in December 2019, he never guessed that within three months, he'd be orchestrating the 350-licensed bed hospital's response to the largest pandemic in a century.
"This opportunity would have me facing one of the greatest challenges of my career," says Ladell.
When he took the role, he was expecting it to be some light additional duties to ensure compliance and preparation for short-term crises. At that time, the biggest task at hand for the Emergency Management Committee was preparing for the Democratic National Convention hosted in Milwaukee. In the winter of 2019–20, the hospital prepared for the convention by preparing for unanticipated emergencies, including various types of mass casualty events.  
"When it all hit the fan in March, I didn't speak 'emergency management' yet," he says.
But as the COVID-19 swept through the United States in March 2020, Nick Ladell — also the hospital's pharmacy director — quickly evolved from Emergency Management Committee Lead to the COVID-19 Incident Command Team Commander.
"I was born for this," he says. "I believe I have had a larger impact on patient care in this role using my gifts as a leader than I would as a clinician or working face-to-face with patients."
Crisis response
"We're now in our third month of activating our command team," he says. "What that means is we have a chain of command set up to accomplish things so we can move efficiently and effectively versus by committees and groups."
"It was difficult, rapid, and draining, but in the end, we were able to continue to provide great care to our patients throughout the crisis."
—Nick Ladell
Health systems around the world had to act quickly to not only to meet the demand of the new influx of COVID-19 patients, but also to prevent the transmission of the virus within hospital and clinic walls. Within days, under Ladell's leadership, the Aurora West Allis Medical Center doubled the capacity of its emergency department, doubled the number of intensive care beds, developed plans to triple the number of inpatient beds, and mobilized labor, logistical, and supply chain resources to meet the needs of the crisis.
"Our Command Team and entire hospital leadership team were working day and night to prepare and respond to this national crisis," he says. "It was difficult, rapid, and draining, but in the end, we were able to continue to provide great care to our patients throughout the crisis."
An in-house predictive analytics team, using data from nearby hospitals and clinics in the Advocate Aurora Health system, would help Ladell weigh decisions on when to double or triple their inpatient capacity or when to invest in preparing an additional intensive care unit.
Now that Wisconsin is at the top of the curve and cases have plateaued, and even declined in many areas, he's working with the team to reverse the response — but he thinks it's likely things are never going back to the way they were.
"We'll just get to a maintenance that will never actually go away," he says.
He expects the road to restoring "normal" operations at the hospital to be in some ways more difficult than the quick response to COVID-19.
"For the longest time, we were focusing on COVID every day and every minute, but now on the back half of this curve, we have to stay focused on COVID while adding back in additional duties and services with the same amount of resources," he says. "We were all moving together in the same way; now we're scattering like mice."
While the trip to the top of the curve took them about six weeks, he expects the journey back down to take 12 to 18 months, or longer — especially if there is a second wave.
"And if there is a second wave we may have to then dial back the surgeries and respond again," he says. "And that's very possible with some of the things that are going on."
Called to lead
After graduating from the School of Pharmacy, Ladell spent a year working as a pharmacist at Aurora St. Luke's Medical Center and then completed a two-year residency in pharmacy administration with Aurora Health Care. With that education and experience under his belt, he joined Aurora West Allis Medical Center as the pharmacy director at age 27.
"I've now been here for six years, and I'm one of the longest-tenured leaders on this campus, out of 100 or so department leaders," he says.
The previous Emergency Management Committee Lead was a facilities manager — a plumber by trade. When he retired, the president of the hospital asked the administrators who should step into the role. All hands pointed toward one of the leaders with the most experience at the hospital.
"Pharmacy is everywhere — we send meds to almost every nook and cranny of the building, so I've been everywhere," he says. "With that, I have relationships with nearly everyone."
Even as the best-suited leader for the role, he still had a lot to learn about crisis management, especially for a long-term crisis like COVID-19.
"We didn't practice for something that's going to be around for a year and was going to test our supply chain, how we do business, and our labor practices," he says. But his time, the School of Pharmacy and in his residency set him up to rise to the challenge.
"Doctors are good at identifying problems, but pharmacists are like the problems solvers, which is one lens of looking at health care."
—Nick Ladell
"As a pharmacy student, you're charged to do something, and you just have to figure it out," says Ladell, who was the president of his PharmD class and was active with several student organizations, such as the Wisconsin Society of Pharmacy Students and Phi Delta Chi.
"That involvement helped me develop various skills, whether that's communicating, motivating, strategizing, or trying to advance a large project by breaking it into smaller phases to accomplish something over the long term," he says.
Part of that is knowing how to use your resources, he says. One of the resources he used was his retired plumber friend and mentor – the previous Emergency Management Committee Lead – by calling him up and asking for his guidance through a few decisions.
"I realized I got comfortable with that in pharmacy school," Ladell says.
He didn't use his clinical problem-solving skills as commander, but it's essentially the same exercise, he says, to determine the best solution to the problem at hand.
"Doctors are good at identifying problems, but pharmacists are like the problem solvers, which is one lens of looking at health care," he says. "Doctors diagnose high blood pressure, and then we help them get to the best solution."
Ladell's wife, Lindsey (PharmD '11), who is a pharmacist at the Milwaukee VA Medical Center, was also on her Incident Command Team on the planning committee.
This penchant for problem-solving makes pharmacists well-positioned to be leaders in health care, even in crisis preparedness roles, especially as medication expertise transcends nearly every area of care.
"Things have evolved in our business models at our health systems," he says. "It's a great opportunity for pharmacy leaders and pharmacists to take on a larger role like this."