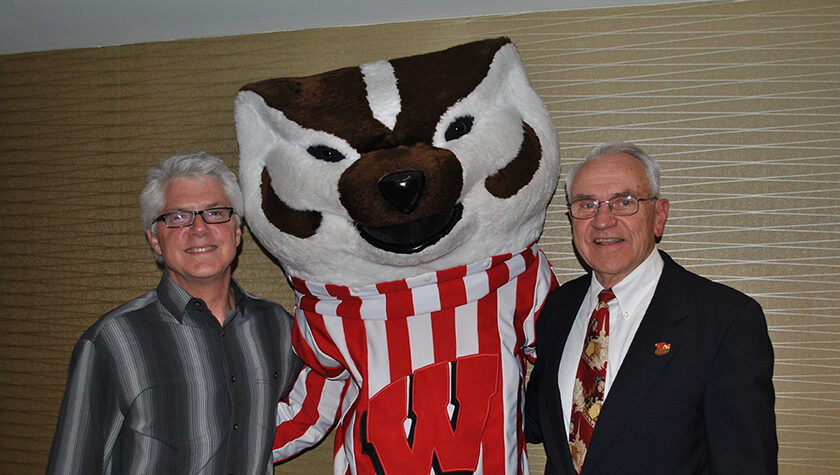 15
June
Alumnus Mike Flint created one of the first buying co-ops in Wisconsin — and that is just one of many contributions to pharmacy
By Katie Ginder-Vogel
Mike Flint's first job in a pharmacy, Shore Pharmacy and Shore Camera Shop, set the stage for his career as a pharmacist and business owner. During high school in the Milwaukee suburb of Shorewood, Flint (BS '81) clerked and stocked shelves at the local pharmacy, which also sold a variety of goods and provided prescription service to local nursing homes.
"I loved the way they ran their store," says Flint. "I enjoyed the retail atmosphere. I watched them take care of people and their employees."  
Before enrolling in the University of Wisconsin–Madison School of Pharmacy, Flint combined his interest in business ownership with his love of math, physics, organic chemistry, and biology as a pre-pharmacy student at UW–Milwaukee. He'd always had his eye on starting a business of his own, designed to serve the community.
Despite that modest goal, Flint wound up building a pharmacy empire and created one of the first pharmacy buying co-ops, which is now one of the largest in the country. And it all started because he called a pharmacy one night, looking for a job while he was in pharmacy school.
Jumping in with both feet
Flint's first big break came one evening after he graduated from UW–Milwaukee and had relocated to Madison. He walked into Mallatt's Pharmacy, during its evening rush, and offered to take care of the front of the store. They let him hop on the register (a vintage NCR cash register from the 1960s), which happened to match the one he had used at Shore Pharmacy.
"Right out of the chute, I was able to ring people up," laughs Flint. "At the end of the night, I was hired."
Bill Mallatt (BS '60), the pharmacy's proprietor, became Flint's mentor and longtime friend.
"Being at Mallatt's, I knew I'd picked the right profession," says Flint. "People were great, so accepting. Bill would introduce me and say, 'This is Mike; he will be taking over.' People believed in Bill, so they believed in me." 
Flint recalls how his faculty mentor, the nationally acclaimed Joseph Wiederholt, would visit Mallatt's on Saturdays and simply say, "Michael, you can do it." 
"That's all I needed, was to hear that from him," says Flint. "I was so lucky to have that support."
Flint didn't have the chance to "take over," as Mallatt implied, for several years, but in the meantime, he scratched the entrepreneurial itch with a venture that would change pharmacy in Wisconsin and beyond.
Becoming an entrepreneur
In 1983, Flint launched one of the first pharmacy buying groups, called the Independent Pharmacy Cooperative (IPC), in his basement. Seven independent Madison pharmacies formed a group to get better pricing on pharmaceuticals, as well as retail items like sunglasses and candy. The group's ability to negotiate purchasing agreements saved independent pharmacies money.
"It was about keeping independent pharmacists, who are so engrossed in their communities, sustainable," Flint says. "Other independent pharmacists knew if we could set up a purchasing organization for them, it would help the industry." 
The co-op grew steadily, and Flint hired John Pike (BS '78) to be the executive director of IPC, in 1986 — a job Pike held for seven years. IPC is still going strong today, based in Sun Prairie, with over 6,000 members, who share in the cooperative's operating profits. It is the largest pharmacy purchasing co-op in the U.S.
"I have been blessed to have so much support from pharmacists, friends, and family as I pursued these endeavors."
—Mike Flint
Flint, who had been a board member, CEO, and Board Chairman of IPC, stepped down from the board in 2019.
Bill Mallatt's retirement in 1992 offered Flint another opportunity to stretch his entrepreneurial legs. He bought the pharmacy, and Mallatt stayed on as a pharmacist and oversaw the wine department, a favorite Mallatt's offering. 
In 2003, Flint expanded the business and opened Mallatt's Homecare Pharmacy, a long-term care pharmacy now owned by Guardian Pharmacy. The idea came when a regular customer was struggling with an overwhelming medication regimen. Flint offered to put his medications in a weekly planner. Demand grew rapidly.
"People in the long-term care world found out about us and asked us to fill medications and blister cards," says Flint. "Long-term care became really big."
From there, Flint continued to expand Mallatt's across the state of Wisconsin, starting with purchasing Shafer Pharmacy on Williamson Street in 2010, which became the East Side Mallatt's Pharmacy. 
"It was the perfect complement to Mallatt's on the West Side — a small, unique store, with loyal patrons," says Flint.
He then purchased pharmacies in Waunakee, Lodi, and Menomonee Falls, as well as the home health agency Interim HealthCare of Wisconsin. But with the 2006 implementation of the Medicare Part D prescription benefit, which lowered reimbursement amounts, his retail stores began to suffer.
Mallatt's Homecare Pharmacy, however, was still thriving.
"The long-term care business was growing, and we needed capital for it to grow," says Flint. "At the same time, the retail side was suffering, and we had to make an extremely difficult decision." 
Flint sold the four Mallatt's retail locations to Walgreens in October of 2016. In April 2018, he sold the Mallatt's Homecare Pharmacy locations in Madison and Menomonee Falls, along with Interim HealthCare of Wisconsin, to Guardian Pharmacy of Wisconsin. Guardian Pharmacy is an Atlanta-based company that owns long-term care pharmacies around the U.S. Flint has known many of the pharmacy owners in Guardian's network for years.
Shortly thereafter, in October of 2018, Guardian Pharmacy acquired Prescriptions Plus Pharmacy, a long-term care pharmacy in West Allis, Wisconsin. The businesses continue to operate as Guardian Pharmacy DBA Mallatt's Homecare Pharmacy and Prescriptions Plus, with Flint still at the reins. 
"Guardian provides us with human resources, financial, and licensing support, so we can run our pharmacy, and they leave that up to us," says Flint. "I felt it was a good move to get more financial backing to grow our business."
No end in sight
Today, Flint continues to run the three long-term care pharmacies he created, with 200 employees and 10,000 patients in Wisconsin and Illinois. One of those employees is Flint's former colleague and IPC Executive Director John Pike, who is now the director of operations for Guardian Pharmacy, DBA Mallatt's Homecare Pharmacy in Madison, Wis.
Flint remains enthusiastic about the possibilities for expansion in the long-term pharmacy area and has identified numerous opportunities for pharmacists, including consulting for nursing homes and assisted living facilities, providing testing and vaccinations, and providing guidance on medications. 
"This is a growing area of pharmacy," says Flint. "There are lots of great opportunities that people don't know about. Our consultant pharmacist department, Guardian Shield, is finding more ways to protect our patients and guide the caregivers at our long-term care facilities."
Flint's experience in helping nursing homes and assisted living facilities manage patient medication has made him optimistic about what his team could do if they were able to collaborate with facilities to make medication changes in real time.
"I took a call in Menomonee Falls from a nurse with a difficult diabetic patient in a nearby long-term care facility, so I went over to see the patient's record of blood sugar levels," he says. "I went back to the pharmacy, called the nurse, and suggested a different dosage and follow-up. A month later, after a couple of adjustments, we had a stable patient."
Flint's team also administers up to 6,000 vaccinations a year, and he's certain that effort will grow. "This is just the tip of the iceberg," he says. 
"My number one job is to get people to do more than they think they can do."
—Mike Flint
When the Center for Medicare and Medicaid Services approved pharmacists to administer COVID-19 tests, Flint's team immediately pursued certification.
"This testing won't end next month," Flint says. "Facilities will want us to come in annually to test residents." 
Likewise, he views safety measures currently being implemented during the COVID-19 pandemic, like contactless delivery and telehealth consults, as changes that should become permanent.
"COVID-19 is a whole new ballgame for everybody," he says. "We have implemented masks, gloves, and no-contact deliveries. These will probably be permanent changes, so we're ready for next year's influenza A." 
Mallatt's Homecare Pharmacy precepts PharmD students from the School of Pharmacy, many of whom return to the team after graduation. Flint emphasizes the number of workplace options for pharmacists: long-term care, at hospitals, for pharmacy benefit managers, in research, and as consultants. He hopes the next generation of pharmacists adopts the same sense of curiosity about new opportunities for pharmacy that has built his career.
"I have been blessed to have so much support from pharmacists, friends, and family as I pursued these endeavors," he says. "I could not have done it without their encouragement, especially my wife, my daughter, and my son."
He recalls how they have had to endure his long days at the pharmacy. His son recently reminded him of the awareness they had, even as kids, of the dedication required to own a pharmacy.
"My son's wife, a general manager of a major retail store, was called in at 2 a.m. to resolve an issue with the night crew. My son went with her," he says. "They had to stay at the store until the problem was fixed. My son's wife apologized to my son for a night of lost sleep. My son told her that he grew up with this sort of thing his whole life, so it was nothing out of the ordinary."
But it is a labor of love.
"I'm 62, and I love coming to work," says Flint. "Every day is a different challenge, and I love seeing the people that work with me improve. My number one job is to get people to do more than they think they can do."