John Merianos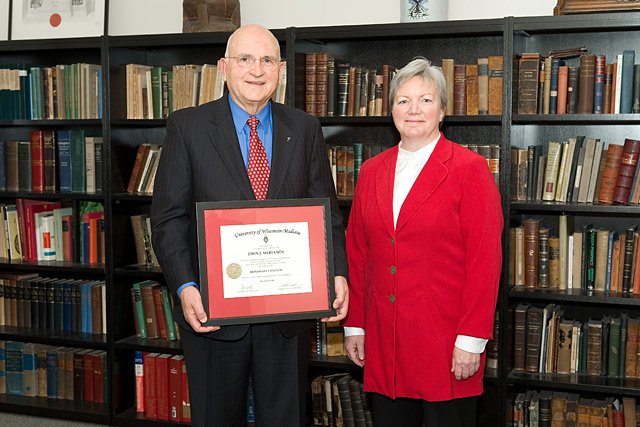 John J. Merianos, a native of Greece, received his BS in pharmacy from the New England College of Pharmacy, his MS in pharmaceutical chemistry ('63), and PhD in medicinal chemistry ('66) from the University of Wisconsin. Merianos launched his professional career with FMC Corporation in the area of antimalarial research. Later, he joined Millmaster Onyx where he was an active research chemist and group leader of antimicrobial research programs.
Merianos subsequently joined GAF Chemicals Corporation, the predecessor to International Specialty Products (ISP), in 1987 as a senior research scientist. In 1991 he was named research fellow, ISP Research & Development, and in 1992, was named associate director of research and development at ISP Sutton Laboratories. In 1995 Merianos was promoted to senior research fellow at ISP Research & Development and the director of Research & Developmoent at ISP Sutten Laboratories. In total, Merianos is the inventor or co-inventor of more than 107 patents in quaternary ammonium antimicrobial compounds, industrial biocides and cosmetic preservatives. In 1999 he was promoted to senior science fellow in charge of the technology of cosmetic preservation and biocides research and development at ISP. In 1997 Merianos was named Microbiologist of the Year by the Society for Industrial Microbiology, New Jersey Local Chapter, in recognition of his achievements in applied microbiology.
Merianos has remained a loyal friend to the University of Wisconsin and its School of Pharmacy during his entire scientific career, which has spanned more than 40 years.
Michael Dow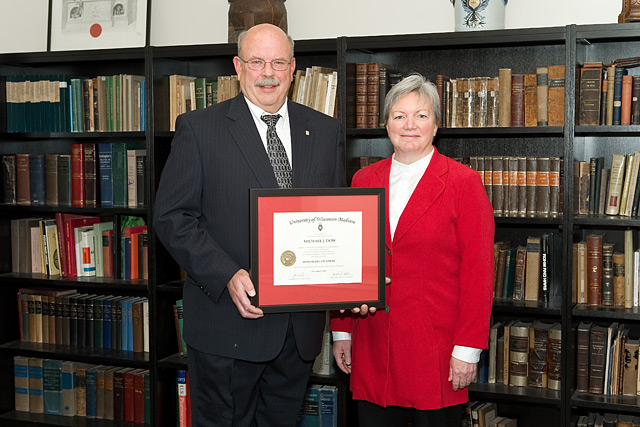 Michael J. Dow received his bachelor of science degree from the UW School of Pharmacy in 1971. Mike has practiced in community pharmacy for his entire career, first in Eau Claire and subsequently in the Janesville/Beloit area. In 1995, he became a partner in Grant Avenue Pharmacy in Beloit. His dedication to his patients was demonstrated through the many new and innovative programs adopted by the pharmacy staff. In 2002 the pharmacy practice was sold to Aurora. Dow continues to work for that organization today.
Dow's leadership skills were put to good use outside his pharmacy practice as well. He has served as the treasurer and as a member of the Board of Directors for both the Wisconsin Pharmacists Association and the Pharmacy Society of Wisconsin (PSW). In addition, Dow served as president and Chairman of the Board of PSW. He has served the UW School of Pharmacy as a clinical instructor and has participated in the interview process for prospective students. In 2005 he was the recipient of the Distinguished Service Award from the Pharmacy Society of Wisconsin, in recognition of his outstanding contributions to the profession of pharmacy and to PSW.
A civic leader as well, Dow has also been very involved in his community and his church. He currently volunteers time at a health clinic for low income patients. He was recognized for his sustained commitment to community service in 2006 as the recipient of the PSW Bowl of Hygeia award.
Michael Schwartz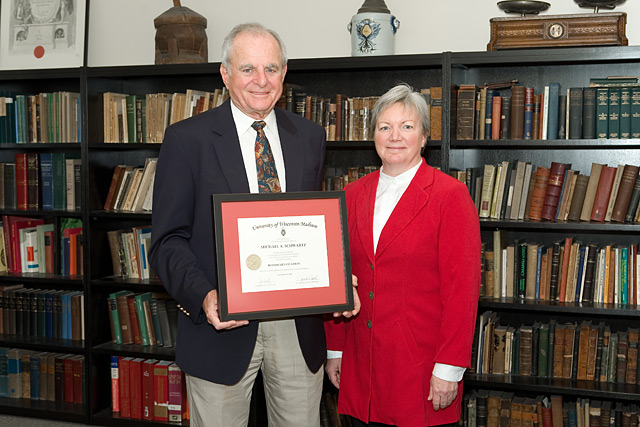 Michael A. Schwartz received his bachelor of science degree from the Brooklyn College of Pharmacy, his masters of science degree from Columbia University, and his PhD from the UW School of Pharmacy in 1959. He has served as a research scientist in the pharmaceutical industry and as a faculty member and dean at the State University of New York at Buffalo (dean 1970 – 76) and the University of Florida (dean 1978 – 96).
Schwartz is the author of over 60 publications on the topics of pharmaceutical science, pharmacy education and strategic planning. He served on the U.S. Herbal Pharmacology Delegation to the Peoples Republic of China in 1974. In 1989 – 1990, he served as Scholar-in-Residence at the American Association of Colleges of Pharmacy. Schwartz has also served as a member of the Board of Trustees of the American Pharmacists Association (APhA) and the APhA Foundation. He chaired strategic planning committees for the Academy of Pharmaceutical Sciences and the American Association of Pharmaceuticals Scientists. He has also served a term on the Accreditation Council on Pharmaceutical Education.
Schwartz has been recognized by his colleagues as a Fellow of the APhA Academy of Pharmaceutical Research and Sciences, the American Association of Pharmaceutical Scientists, and the American Association for Advancement of Science. He is a recipient of the APhA Foundation Research Achievement Award for Stimulation of Research and was named a Distinguished Alumnus of the Arnold and Marie Schwartz College of Pharmacy and Health Sciences (formerly Brooklyn College of Pharmacy). Since his retirement from the University of Florida in 2003, he has continued to teach one course each year at the College of Pharmacy.
Schwartz's community involvement includes service on the Board of Big Brothers and Big Sisters of Greater Gainesville and on the Board of the Jewish Council of North Central Florida. he has also been active for many years as a facilitator in strategic planning for a number of colleges and professional and community organizations. In recognition of his outstanding voluntary contributions to society as well as to the profession of pharmacy, Schwartz received the Hugo H. Schaefer award from APhA.
Judith Thompson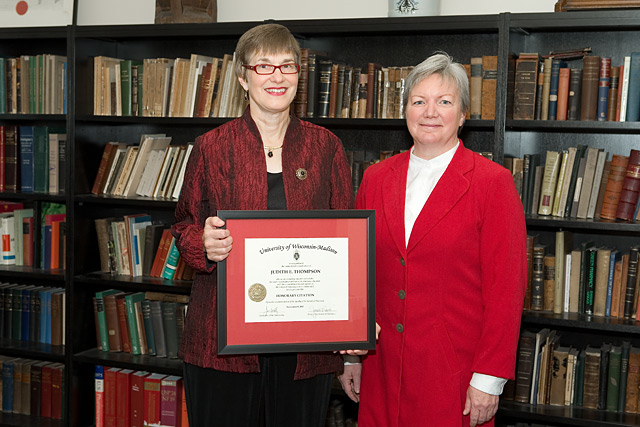 Judith E. Thompson, a native of Plymouth, WI, earned a BS in pharmacy from the University of Madison in 1967 and an MS in hospital pharmacy from the University of Texas in 1969. She practiced at UW Hospital before returning to the UW to teach pharmaceutics and serve as assistant to the dean in the early 1970s. She later worked as a community pharmacist while raising her two sons (David and John) before returning to UW-Madison permanently as a pharmaceutics lectcurer in 1984. She retired as clinical associate professor emerita in 2005.
Thompson's scholarly interests focused on extemporaneous compounding of non-sterile and sterile drug preparations. She has also published on the topics of teaching student pharmacists effective communication skills and the use of database management systems to create educational materials for teaching patient care. The 3rd edition of the textbook for which she is lead author, A Practical Guide to Contemporary Pharmacy Practice, is in process, scheduled for March 2008 completion. This book has been translated into Spanish and Portugese and is now used by School of Pharmacy and pharmacy practitioners internationally, as well as by over 30 colleges of pharmacy in the United States. In line with her research interests, she has served the United States Pharmacopeia (USP) in various volunteer capacities for more than a decade.
Thompson led by being an energetic instructor and capable administrator. From 1985 to 2005 she taught the Drug Delivery Systems Laboratories courses. One of the most enjoyable aspects of teaching for Thompson was working with students to achieve an understanding of pharmaceutical calculations. She earned 11 anual teaching awards at Wisconsin as voted by pharmacy student classes or the Pharmacy Student Senate. In 1995 she received the James Underkofler Award, the highest award given in the UW System for teaching excellence.
Professor Thompson served the UW SoP as associate dean for student affairs for eight years. In this capacity, the students' personal and professional concerns were always treated with the highest regard and warmth. As associate dean, she chaired the PharmD Admissions Committee. She contributed for over a decade to the school's Educational Policy & Planning Committee, during which it implemented the Doctor of Pharmacy program as the entry-level pharmacy degree. She also chaired for many years the school's committees focused on student academic progress, scholarships, and student-faculty relations. She represented the school on numerous UW committees focused on student affairs, assessment and academic advising. Professor and Dean Emeritus George Zografi commented on Thompson's career saying, "She literally has done it all and at the highest levels of expended energy, competence and enthusiasm."
Presently, Thompson continues a major commitment with USP as vice chair of the Compounding Pharmacy Expert Committee and she "greatly enjoys contact with pharmacists and former students who email or call her with compounding questions." She recently enjoyed travel to Cape Cod and the Maine coast with her husband Wayne. Her proudest moment to date in retirement has been "overcoming her great fear of heights," having conquered Moro Rock with her sons while backpacking in Sequoya National Park. She says she is grateful for a supportive, blended family throughout her career; she hopes in retirement that she will have more time to spend with her five children, their spouses and friends, and grandsons Jared, Jacob and Max.