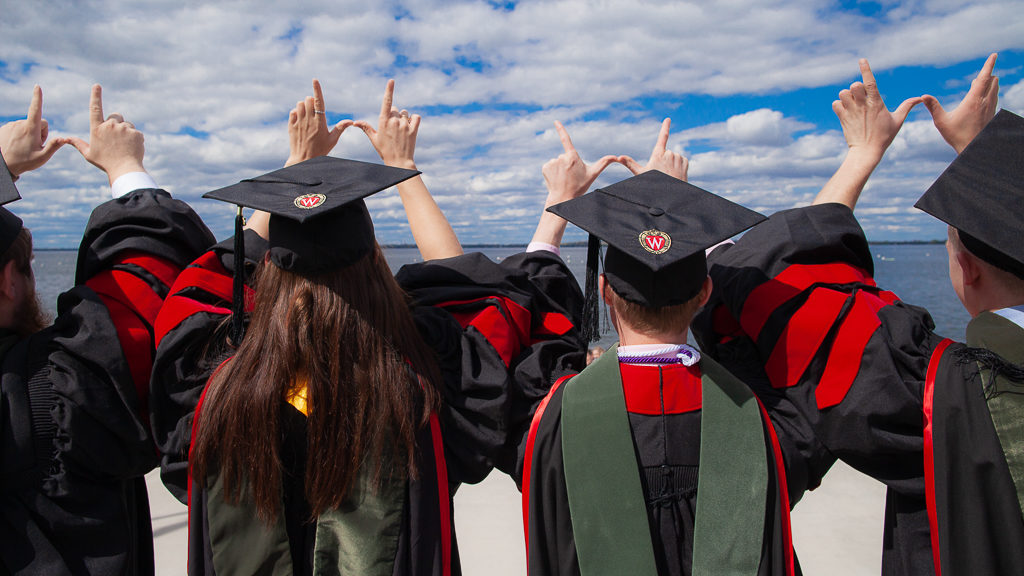 The UW‒Madison PharmD program is competitive. In order to find the students who have the best chance of succeeding, we consider each applicant's merits in comparison with other applicants.
Although we cannot predict the level of competition for spaces in an incoming class, we do encourage prospective applicants to see our admissions statistics page with averages for more insights.
However, while average grades and PCAT scores (now optional for admission) can be instructive, they are not the only factors we consider. Our Admissions Committee follows a holistic approach to admissions, using criteria beyond GPA and test scores to make decisions.
The bottom line is this: we want to find committed learners who will become productive contributors to the pharmacy profession. Below you will find the criteria we use to evaluate our applicants.
Selection Criteria Overview
Applicants should establish a strong academic record. We encourage students to aim for grades of "B" or better in all math and science prerequisite coursework. Students are strongly encouraged to repeat any of these courses where a "C" or lower grade was earned. Grades and repeated courses will be averaged with all other coursework, meaning that the repeated grade does not replace the original grade earned in the course.
There is no minimum GPA requirement, as applicant GPAs can have different meanings. , the GPA range for the most recent entering class was 2.8 – 4.0, while the average GPA for admitted students was a 3.5.
An applicant's cumulative GPA includes all post-secondary courses, including repeated courses. Grades earned for all courses (even those not related to pre-pharmacy coursework) are averaged together to determine a cumulative GPA. The Admissions Committee will also consider GPA for math and science courses, and GPA in each academic year.
Students are encouraged to enroll in 14 to 16 credits each semester to demonstrate preparedness for the rigorous demands of School of Pharmacy academic loads. However, we encourage students to take a lighter load in their first semester of 12 to 14 credits. We also encourage students to take at least one math and science course per semester, or two science courses, while completing pre-pharmacy requirements.
While solid grades are necessary for admission to the School of Pharmacy, our Admissions Committee will also consider trends and grades, combinations of courses taken per semester, total credit load, and PCAT scores in addition to GPAs.
Pharmacists communicate daily with diverse populations, including patients, healthcare providers, and the general public. For this reason, applicants to the PharmD program must be able to communicate effectively in both oral and written English.
An application essay, along with a personal statement, recommendation letters, and an interview are used to assess each applicant's communication and interpersonal skills. Prospective students should exhibit a mature, motivated, and professional attitude. They should also have the ability to explain ideas, solve problems, and think creatively. Responsible behavior, respect for others, good judgment, and cooperation are key qualities for successful students.
Cultural Awareness and Understanding
Cultural awareness refers to the ability to interact skillfully and successfully with people from diverse communities and backgrounds. Applicants should understand that differences go beyond race and ethnicity, and can be understood in many dimensions (e.g., rural versus urban background, socioeconomic status, age, gender identity, etc.).
To increase their own cultural awareness and understanding, many of our successful applicants have served, worked with, and/or learned about individuals in communities with the following characteristics:
Members of racial/ethnic minority groups
People from diverse cultural backgrounds
People from diverse socioeconomic backgrounds
Members of gender and sexual minority groups
Individuals with diverse physical, cognitive, developmental, and/or emotional disabilities
Examples of experience that increases cultural competence could include:
Community service and volunteer activities
Coursework focused on cultural awareness
Workshop, lecture, and seminar attendance
Participation and discussion groups
Membership in clubs and social organizations
Activities through community, civic, and religious groups
Foreign language study
Successful applicants have a curiosity about the world and a commitment to lifelong learning that extends beyond the classroom and into the social world. This allows them to integrate into the modern healthcare field, which recognizes a need to provide the best care to every patient.
Diversity of Background and Experiences
The School of Pharmacy is committed to admitting a diverse student body so our graduates can succeed in an increasingly complex and multicultural society. Applicants are encouraged to share information about their own unique backgrounds and experiences with the Admissions Committee (e.g., distinctions in gender/racial/ethnic/cultural background, socioeconomic class, age, geography, historical underrepresentation, international experience, and family educational history).
Experience in Pharmacy, Healthcare, or Research
Exposure to the pharmacy profession — particularly via work experience and shadowing — can help applicants demonstrate an understanding of and commitment to the field of pharmacy. Work or volunteer experience in other healthcare settings, such as nursing homes, hospitals, or hospice care, can also help applicants to establish relevant interest and exposure.
Similarly, experience with scientific research in a laboratory or other setting can also demonstrate strengths and talents relevant to pharmacy. It is recommended that applicants engage in these experiences on a regular basis over a period of time.
All PharmD applicants are encouraged to do one or more of the following:
Talk to current pharmacy students, faculty, and staff
Shadow or observe pharmacists in different pharmacy settings
Conduct an informational interview with a pharmacist
Volunteer or work as a technician in a pharmacy setting
Volunteer or work in a laboratory setting
Volunteer at a hospital, extended care facility, or other place where the health of patients or residents is evaluated
Join a pre-pharmacy club at your school (if one is available)
Applicants can obtain volunteer and/or work experience in a number of settings. Gaining exposure to healthcare, pharmacy, and/or science over a longer period of time shows a commitment and familiarity.
Extracurricular, Community Service, and Volunteer Activities
The Admissions Committee considers applicants as both students and people. Applicants are encouraged to engage in learning opportunities outside of the classroom by getting involved with clubs, sports, civic groups, religious organizations, fraternities/sororities, and extracurricular activities that focus on their interests and passions. Students also are encouraged to join health-oriented professional and/or pharmacy-related student organizations if available. Applicants should be prepared to explain to the Admissions Committee how these experiences are unique and have helped them develop specific skills or grow as individuals.
Because service is the cornerstone of professional life for pharmacists, applicants should demonstrate experience and a commitment to helping others through volunteer or community involvement activities. They should also show a sincere willingness to learn from others about their unique strengths, needs, and values.
The Admissions Committee views community service and volunteerism to be part of a lifestyle, not just an activity for an application. Therefore, we expect volunteering and membership to be performed on a consistent and regular basis. Additionally, applicants will be expected to reflect upon their service experiences and participate in discussion of their thoughts, feelings, ideas, and interpretations of those experiences.
Interest and Understanding of the Pharmacy Profession
The Admissions Committee will want to know what motivates an applicant to pursue a career in pharmacy. We expect all prospective students to have a foundational understanding of the field, its place within the healthcare system, and issues that practicing pharmacists face.
In order to gain this knowledge and understanding, applicants are encouraged to do one or more of the following:
Talk to current pharmacy students, faculty, and staff
Conduct an informational interview with a pharmacist
Join a pre-pharmacy club at your school (if one is available)
Research literature, online searches, and professional networks to learn more about the pharmacy profession
Download our guide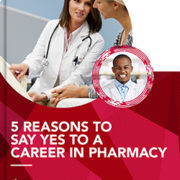 Learn more about the exciting pharmacy profession by downloading our guide.
The Admissions Committee prefers applicants who demonstrate the potential to become future leaders in the profession of pharmacy. The abilities to initiate, organize, plan, and problem solve are important skills that can enhance involvement in a variety of activities — including community service, professional organizations, and extracurricular activities.
Applicants should be able to demonstrate personal accomplishments, as well as responsibility and/or accountability. Examples of leadership roles could include: serving as an executive board member, becoming the officer of an organization, being named captain or coach of a team, teaching and mentoring, working as a supervisor, manager, or team leader at a place of employment, and being involved with the direction of a significant project.
Pharmacy College Admissions Test (PCAT) - Optional
The PCAT is a national, standardized exam that tests knowledge in the following areas: biology, chemistry (including general and organic), quantitative ability (including calculus), verbal ability, reading comprehension, and writing.
The PCAT exam is an important benchmark of academic ability and relevant knowledge. While there is no minimum required PCAT score, scores below 50% will be viewed with some concern. The 10-year historical average composite PCAT score for admitted classes is 78%.
Applicants can take the PCAT exam more than once. The Admissions Committee will review all sets of scores, but will only consider the highest set of scores for the purpose of arriving at an admissions decision.
Applicants are strongly encouraged to prepare thoroughly for the PCAT exam. Applicants should begin studying and preparing for exams as early as possible, and should only register to take the PCAT when they are prepared to perform at their best. Prior completion of calculus, general chemistry, and at least one semester of general biology and organic chemistry are recommended.
There are a variety of exam preparation methods and materials available, including:
Textbooks and notes from related college classes
PCAT study guides (available in most bookstores)
PCAT preparation courses (including online resources)
The Admissions Committee will accept MCAT scores in lieu of the PCAT. Please contact the Admissions Team for additional details.