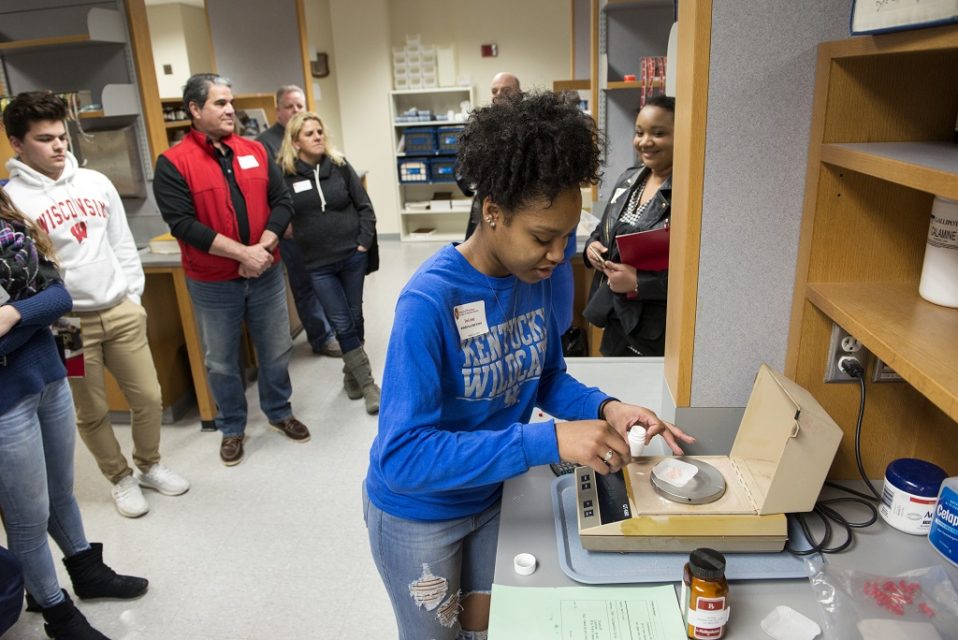 Unforgettable Immersion into Pharmacy
The mission of the Pharmacy Summer Program (PSP) is to give rising high school juniors and seniors, traditionally underrepresented in health science fields, with the opportunity to learn about UW-Madison campus, the School of Pharmacy, and the fantastic career of pharmacy. Students from socioeconomically disadvantaged backgrounds, underrepresented race in healthcare, from rural communities, or will be a first-generation college student are highly encouraged to apply. Due to our grants guidelines, while we consider all completed applications, we give priority to Wisconsin residents who qualify for free & reduced lunch.
July 20-24
The application for 2020 is now closed.
Cohort size is 20 students
Program costs are sponsored by the School of Pharmacy and the Wisconsin Department of Public Instruction grant. There are no costs associated with applying to the program, participating, housing, or meals while attending.
Participants live on campus at the University of Wisconsin‒Madison in a university residence hall throughout the duration of their five-day stay, with supervision from two live-in counselors. The only potential costs include transportation to and from the UW‒Madison campus and the purchase of required business casual attire.
Requirements for Participation
Students must be a junior or senior in the Fall of 2020
Students must have a strong interest in Pharmacy
Students must have a minimum of a 3.0 cumulative GPA
Priority will be given to applicants who historically underrepresented in the health professions, including students from socioeconomically disadvantaged backgrounds, student of color, first generation students, students from rural backgrounds
Successful completion of your application including all supplemental materials
Selected participants must complete additional required materials within a month of accepting offer
Selected participants are required to have a parent/guardians present at both registration and move-out. If a parent/guardian cannot be present, then approval needs to be arranged prior to the start of the program.
Due to staffing ratios, selected participants are required to be available the entire duration of the program and reside in provided university housing. Students are NOT allowed to be without supervision, and leave the program in the evening.
Participants are required to wear business casual clothing most days of the program
The Pharmacy Summer Program application is now closed for the 2020 cohort.
To complete the online application, you will need to include:
General contact and bio information
Written answers to four essay questions:

What are your career interests and the reasoning behind your career aspirations?
Describe any activities you have engaged in to explore your career interests.
If you haven't engaged in any health-related activities, please explain why.
Explain why you are interested in participating in the Pharmacy Summer Program, and how participating will help you progress towards your goals.

List of activities, honors, leadership, and experiences, including:

High School Awards and Honors
High School Leadership Roles
High School Extracurricular Activities
Work and/or Volunteer Experiences

One signed letter of recommendation from a science teacher which includes their contact information as a PDF
Copy of your high school transcript as a PDF
Please have all materials ready prior to starting your application. You will not have the ability to re-enter your application once you submit it.
Recommendation for essays: The selection committee views your responses to the essay questions very seriously. It is recommended that you provide a quality written answers. For example two to four paragraph responses is viewed with higher regard over a couple sentences.
Applicants will be notified by email of their acceptance into the Pharmacy Summer Program in spring.
Meet the Program Director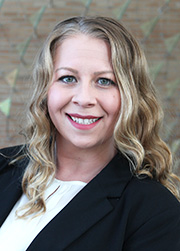 Lindsey DeCarlo, Pharmacy Summer Program Director
UW‒Madison School of Pharmacy
777 Highland Avenue, 2220 Rennebohm Hall
Madison, WI 53705
lindsey.decarlo@wisc.edu