Upcoming PharmD Prospective Student Events
Mock Interviews are held during the fall and spring semester of each academic year. Designed for students from any college or university who are interested in applying to our program this cycle or next. Participants have the opportunity to hear from Recruitment Coordinator Lindsey DeCarlo about the strengths of UW's program, in addition to a 30-minute practice interview with current PharmD students. Participating in mock interviews is an effective way to prepare you for your professional school interview!
Mock Interview sessions are available for both in-person and virtual participation:
Round 3:  January 26, 2023 (4:30 – 7:00 pm)  |  This event has passed

Hear firsthand from PharmD students and PharmD Admissions about the UW–Madison Doctor of Pharmacy program. During each of these virtual 1-hour sessions, you will get an overview of the UW–Madison PharmD program, Q&A session with current students, and virtual tour of Rennebohm Hall.
These virtual information sessions are offered monthly:
February 16, 2023 (9:00 – 10:00 am CST) | This event has passed
Join us in-person for the Pharmacist Career Exploration Day on Saturday, February 4. This half-day session is designed for anyone interested in learning more about the UW–Madison PharmD program and the wide variety of exciting careers in pharmacy. During this event, you will gain a better understanding of pharmacy careers, connect with current students, tour Rennebohm Hall, and meet practicing pharmacists.
Spring Session (In-Person)
February 4, 2023 (8 am – 1 pm CST)  – This event has passed
Location:  School of Pharmacy, 777 Highland Ave, Madison, WI  53705
UW Science Expeditions is a part of a multi-day campus-wide science open house each spring. As a public, land-grant research university, Science Expeditions gives members from our community to learn about the work being done to improve health through research and training.
This event is an opportunity to learn about some of the incredible research being done in the School of Pharmacy through interactive and fun demonstrations! In previous years, attendees made bouncy balls, grew crystals, played a pharmacy video game, looked through microscopes at fruit flies, learned about the history of pharmacy, toured real scientists' labs, made fake medicine capsules, gowned and masked for a tour of the sterile products laboratory, and much more!
Date: School of Pharmacy will host interactive stations at Rennebohm Hall on Sunday, April 16, 2023 from 12:00 – 3:00 PM
No pre-registration required.
Important note: On the day-of the event we may have on-site sign-up for space-restricted sessions (examples: compounding lab, lab tour, building tour).
For detailed event information, visit https://science.wisc.edu/science-expeditions/
The Summer Pharmacy Program is limited to high school students only.
This program is open to high school students (rising sophmores, juniors, or seniors in the fall of 2023) who are interested in learning about becoming a pharmacist and pharmacy careers. Students underrepresented in healthcare, and, specifically, Wisconsin residents who qualify for free and reduced lunch are highly encouraged to register. 
Learn More
Schedule a Visit Bucky date
The School of Pharmacy offers academic information sessions and tours through UW–Madison's Visit Bucky program.
Attend a School of Pharmacy Information Session
Our  advisors will provide an overview of the Doctor of Pharmacy (PharmD) program and the undergraduate BS in Pharmacology and Toxicology (PharmTox) program.  They'll discuss the pre-pharmacy advising services available to UW undergrads and also review the admissions process and timeline, prerequisite coursework, selection criteria, career outlook and opportunities, and other unique options for UW students exploring our School of Pharmacy programs.
Need a different date?
If you can't find an info session that works with your schedule, please contact our Student & Academic Affairs Office at 608-262-6234 or email amy.zwaska@wisc.edu to arrange an alternate date to meet with a pre-pharmacy advisor and/or schedule a tour of the pharmacy building with a current pharmacy student ambassador!
This virtual event was held on Thursday, September 22, 2022 (9 am – 6 pm CST):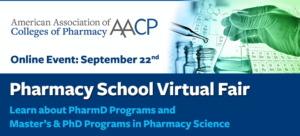 Learn about PharmD programs and Master's and PhD programs in Pharmaceutical Science
Meet Admissions reps and faculty from pharmacy schools nationwide
Designed for those applying for the current PharmD application cycle, this interactive workshop will discuss changes to the application process and will provide insight into what to expect as you proceed through the application cycle. Held in August once each year.
August 26, 2022 (1-2 pm CST) | Virtual | This has passed.
Sign Up for Email Updates
The School of Pharmacy hosts a variety of events and open houses for undergraduate and high school students throughout the year. These events allow interested students to experience the school, learn more about our PharmD program, and explore the career possibilities that come with a PharmD degree.
If you'd like to receive news and be notified about upcoming PharmD events, please sign up to receive email updates.
Subscribe to Email Updates