22
May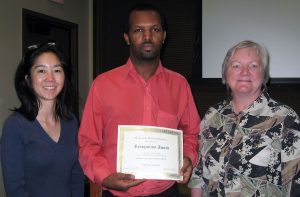 Ephrem Aboneh, a graduate student in the Systems Approach to Medication Safety (SAMS) lab of Michelle Chui, Social and Administrative Sciences Division, embodies the spirit of the UW-Madison School of Pharmacy. Aboneh was awarded a 2014 "Recognition for Global Engaged Scholarship" award from the Wisconsin Without Borders (WWB) initiative based on his project, "Exploring Medication Safety Hazards in an Ethiopian Academic Emergency Department: A Human Factors Approach."
The WWB initiative draws on the history and values of the Wisconsin Idea, and the many remarkable partnerships that UW-Madison faculty members and students have initiated, both in Wisconsin and around the world.
Aboneh's project, "Exploring Medication Safety Hazards in an Ethiopian Academic Emergency Department: A Human Factors Approach" was funded with a Graduate Research Award from the University of Wisconsin Global Health Institute. A native of Ethiopia, Aboneh was the lead pharmacist for the country's flagship hospital, Black Lion Hospital. Five years ago, the hospital opened its first Emergency Department to provide care and medical access for patients. The hospital focused on patient access, but Aboneh identified a gap in patient safety, thus inspiring the basis for his research and project.
With his project, Aboneh aimed to identity medical safety hazards in Black Lion Hospital's Emergency Department and to understand the system-related issues that relate to patient safety in the emergency department. Through his coursework through the Department of Industrial and Systems Engineering and in the Social and Administrative Sciences Division at the UW-Madison School of Pharmacy, he investigated ways to improve patient safety in a low-tech healthcare environment with the goal of developing a locally-adaptable set of recommendations based on established standards to improve patient safety at the hospital.
"Ephrem made a name for himself in Ethiopia and had established credibility with his peers and the community, so he was able to leverage the relationships he had formed in Ethiopia, as well as utilize his resources here to make recommendations for his hospital," said Michelle Chui, associate professor, Social and Administrative Sciences Division.
Consequently, Aboneh was selected for the WWB Award for his project and recognized at the WWB Awards Ceremony on Friday, April 25. He also received a $500 monetary prize. The mission of WWB is to engage the UW-Madison campus in interdisciplinary collaborations that include reciprocal community partnership, academic preparation, reflection, and action to foster sustained human flourishing in our world.
Aboneh will complete his research and master's thesis this summer which will enable him to develop a set of low-cost, low-tech recommendations that Black Lion Hospital can reasonable implement to improve patient safety. He then plans to complete his PhD.at UW-Madison.
"Ephrem is a unique student, someone who embodies the true spirit of the School of Pharmacy when it comes to global health initiatives," said Chui. "He has seen it all, the healthcare system in Ethiopia and the United States, so he has a lot of context and is able to bridge the two systems, comparing the good and bad so improvements can be made."