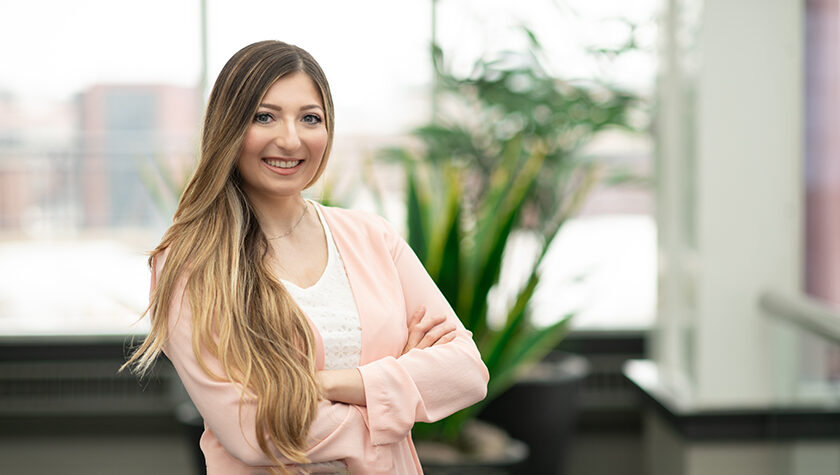 8
March
Alumna Paria Sanaty Zadeh (PharmD '17) shapes and advances pharmacy nationwide as APhA associate director of Practice and Science Programs
By Katie Ginder-Vogel
"First and foremost, I'm a pharmacist," says Paria Sanaty Zadeh (PharmD '17), although her current role goes far beyond medication expertise and patient care. Instead, she is making sure that pharmacists nationwide are empowered with the tools, resources, and legislation they need to make a tremendous impact on patient care.
Sanaty Zadeh is the associate director of Practice and Science Programs at the American Pharmacists Association (APhA), with a purview covering pharmacist advocacy, pharmacist patient care services, pharmacy residencies, and more.
"I represent the pharmacy profession and am a voice, advocate, and champion for pharmacists and pharmacy team members within the profession," she says. "I am able to give APhA a public presence in healthcare on a national level, to help shape the future of the profession, bring visibility to pharmacists' amazing work, and help pharmacists become more deeply embedded in healthcare."
Sanaty Zadeh has been pushing for the advancement of pharmacists and student pharmacists since she was a PharmD student herself, at the University of Wisconsin–Madison School of Pharmacy, driven by a passion for science and healthcare.
As a student, she first launched a series of videos that grew to become TranspharmD, a pharmacy career coaching platform that aims to get PharmD students into their dream jobs. She also started her involvement with APhA, finishing in the top 10 of the APhA Academy of Student Pharmacists National Patient Counseling Competition.
"One of the largest efforts that I share practice-based data on is the hallmark issue of provider status for pharmacists, which would have an incredibly positive impact on access, sustainability, and advancement of pharmacists' patient care services."
—Paria Sanaty Zadeh
It was during a VALOR (Veterans Affairs Learning Opportunities Residency) internship at Captain James A. Lovell Federal Health Care Center, in North Chicago, where she first recognized her love for clinical pharmacy practice and managing disease states, and fourth-year Residency-Track Advanced Pharmacy Practice Experience (APPE RT) rotations at Froedtert Hospital piqued her interest in leadership. 
"I wanted to merge clinical practice and leadership, so after graduating from the School, I did two years of residency: the first year in hospital pharmacy practice, to learn how to be a strong pharmacist before managing people, and the second year in health-system pharmacy administration leadership," she says. She also completed the American Society of Health-System Pharmacy (ASHP) Pharmacy Leadership Academy. "Those residencies developed my skill set in clinical practice and administration." 
She feels her role at APhA combines her skill sets perfectly, adding that she relies on her clinical skills, even though she's no longer in frontline practice.  
"I really enjoy direct patient care, and I love making a broader impact; that's what drew me to this role," she says. "I still keep up, just like a clinician, with practice and clinical information. That's always at the heart of the work I do." 
Expanding pharmacists' reach
At APhA, Sanaty Zadeh divides her time equally between two groups at the organization: Practice and Professional Affairs, and Practice and Science Academies. She's responsible for meeting both team's goals: elevating and advancing pharmacist patient care services and serving as a liaison between the association's members and leaders.
"We provide pharmacists with practice tools, resources, and programming, so I have to stay up to date on the evolution of pharmacy practice and the healthcare environment to make sure our resources truly help them," she says. "I have to know about different areas of pharmacy practice and pharmacist patient care services, including immunizations, health equity, billing and payment, disease state management, and more recently, pharmacy personnel well-being."
Sanaty Zadeh also has the opportunity to become a content expert in certain areas, including substance use disorders.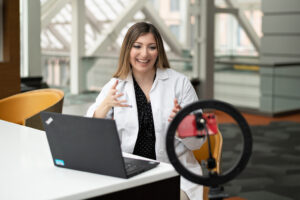 "Working at an association is very different than many pharmacy practice settings because of the diverse expertise needed to run an association," she says. "This work is not done in a silo, but a role in association management requires me to flex my collaboration skills and work cross-functionally with many other teams (Education, Publishing/Periodicals, Marketing/Communications, Digital Information Systems, and so on), which is not something pharmacists in traditional settings do."
She is involved in the Centers for Disease Control's Vaccine Confident grant program, through which APhA is helping to identify ways to increase pharmacists' tools and resources to build vaccine confidence in patients and ultimately increase vaccination rates. Sanaty Zadeh pulled together a national learning collaborative of more than 20 pharmacists, pharmacy technicians, and student pharmacists who meet monthly. 
"We bring them together and ask them to share what they're experiencing when discussing and administering COVID-19 and other vaccines — what are the barriers to community members getting vaccinated, and what can APhA do to help?" she says. "It's really rewarding to hear their stories and to be able to create resources based on their insight."
Her scope also reaches outside of APhA to serve on external coalitions and represent APhA and the pharmacy profession, such as through collaborations with other healthcare professionals. For example, she represents pharmacists with the Providers Clinical Support System, which is a national education, training, and clinical mentoring program for health care providers who are addressing the opioid epidemic through the evidence-based prevention and treatment of opioid use disorders. She also works with the Opioid Response Network, Partnership to Advance Cardiovascular Health, the CDC Prevention of Overdoses and Treatment Errors in Children Taskforce (PROTECT) Initiative, and more.
"My approach has always been to give aspiring pharmacy professionals tools, resources, and advice to attain the career of their dreams."
—Paria Sanaty Zadeh
And because pharmacy practice naturally connects to policy and advocacy, Sanaty Zadeh works closely with APhA's Government Affairs team to provide the data they need from pharmacy practice on how to promote legislation and regulations that advocate for positive change in the pharmacy profession. 
"One of the largest efforts that I share practice-based data on is the hallmark issue of provider status for pharmacists, which would have an incredibly positive impact on access, sustainability, and advancement of pharmacists' patient care services," she says. "Drawing on pharmacy literature, I share powerful data that underscores the positive benefits of pharmacists on the clinical, economic, and humanistic outcomes for patients, providers, payors, and the health care system as a whole."
She is also contributing to advocacy efforts to authorize pharmacists to prescribe COVID-19 oral antivirals, which would establish a true COVID-19 test-and-treat model for one-stop patient care at the pharmacy, as well as legislation that would expand patient access to medications for the treatment of substance use disorder.
And that's just the first half of her role. The second portion of Sanaty Zadeh's job is serving as a liaison to association members and leaders.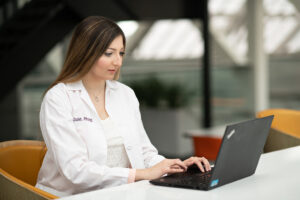 "I help support their engagement, contributions, and strong volunteer leadership," she says. "We just started a new committee — the APhA-APPM (Academy of Pharmacy Practice and Management) Pharmacy Residency Standing Committee, and I was charged with getting it off the ground." 
The new committee, composed of more than 20 pharmacy resident and fellow members, offers informational resources and networking to help postgraduate trainees across the country get the most out of their experience.
Sanaty Zadeh is also the liaison for the APhA-APRS (Academy of Pharmaceutical Research and Science) Postgraduate Advisory Committee, which includes pharmacy PhD and master's students, pharmacy postdocs, and pharmacy fellows and facilitates research collaboration and communication, and three APhA-APPM Special Interest Groups: Care of Underserved Patients, Diabetes Management, and Pain Management and Substance Use Disorder.  
"I also support the APhA-APRS Gender Equity Task Force, which conducts research, disseminates findings, and identifies solutions to achieve gender equity within the pharmacy education workforce, in partnership with the American Association of Colleges of Pharmacy," she says.
With such a comprehensive role, Sanaty Zadeh feels she is able to have a strong impact on the pharmacy profession.
"The most rewarding stories are when a member joins a committee or interest group, has an idea to develop a new initiative like a webinar or toolkit, and carries it out to fruition," she says. "That's so energizing for everyone involved. Or when a pharmacist tells us, 'The APhA Practice Team made this resource, and it had a positive impact on the pharmacists and patients at my site.'" 
Finding meaning in mentorship
In her spare time, Sanaty Zadeh runs TranspharmD, which she launched in pharmacy school, when she was exploring pharmacy career paths.
"I was talking with pharmacy residents, fellows, and leaders to learn about their roles and career paths and thought I should film those conversations and share them with other student pharmacists," she says. "TranspharmD was borne out of my commitment to inform the next generation of pharmacy leaders." 
Sanaty Zadeh's first interview — featuring Ed Portillo (PharmD '14), now an assistant professor in the School's Pharmacy Practice Division — was filmed on a borrowed camera from Ebling Library that she says lends a distinctive green tone to the video, adding with a laugh that the production quality has improved markedly in recent years. TranspharmD's tagline is "explore, aspire, achieve," and Sanaty Zadeh says she is constantly adding new videos to show the vast spectrum of roles across direct patient care, public health, and research that are possible for pharmacists.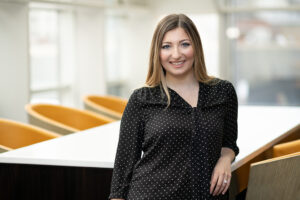 "We added a spotlight series focused on pharmacists' unique roles within specialties like oncology and infectious diseases to show students what you can do as a pharmacist in a specific area," she says. "My approach has always been to give aspiring pharmacy professionals tools, resources, and advice to attain the career of their dreams." 
She says people often think of pharmacists as working solely in community pharmacies or hospitals, so she aims to educate both prospective pharmacists and the public about the numerous opportunities available within the profession.
"I love showcasing and elevating the profession through this work, but I think the most rewarding part has been the individual impact on student pharmacists, pharmacy technicians, and pharmacists' career journeys," she says. "It is so validating when someone says, 'I watched your video on industry pharmacy, and it motivated me to go that route because I felt like I could actually pursue it.'" 
She continues to expand the website's content, adding resources for pharmacy technicians and a new series, RxVoice, in which student pharmacists and healthcare professionals share their perspectives, and offers one-on-one counseling. She also volunteers as a School of Pharmacy Alumni Ambassador and mentor in the PharmD Path of Distinction in Leadership, as well as a career coach for Dress for Success, a nonprofit providing professional guidance to unemployed and low-income women to support their job search and thrive in their careers, and an advisory board member for Girls are Powerful, an organization that empowers young girls to foster self-esteem and self-determination.
"Being able to give back, amplify voices, and empower the next generation of pharmacists and pharmacy leaders through informational resources, professional development, and career transformation has brought deeper meaning and fulfillment to my work within the pharmacy profession," she says. "It's about helping people grow."