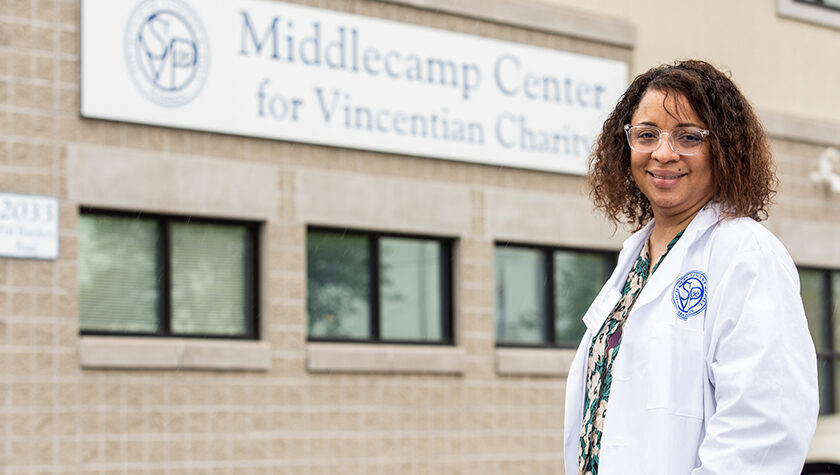 16
June
Alumna Yolanda Tolson leads Wisconsin's only charitable pharmacy, helping uninsured patients access necessary medications
By Emma Gran
Photos by Ingrid Laas
Twenty-six million Americans didn't have insurance at any point in 2019, according to the U.S. Census, and up to 12 million more lost employer-sponsored coverage in 2020 due to the COVID-19 pandemic.
Without insurance, it can be all but impossible for some patients to afford the medications they need to manage chronic conditions, or even acute illnesses. But Madison-area residents in need have somewhere to turn: the St. Vincent de Paul Charitable Pharmacy, Wisconsin's only standalone pharmacy for free medications.
"It's like a lighthouse — a steady hand in an unstable world," says Yolanda Tolson (BS '95), the managing pharmacist.
Since opening doors in 2013, through a partnership with the University of Wisconsin–Madison School of Pharmacy, the SVdP Charitable Pharmacy has been striving to be a compassionate, reliable resource for uninsured community members who are below 200 percent of the federal poverty level to access free prescription medications.
"It is truly a privilege to provide care for those in the greatest need."
—Yolanda Tolson
"With the population we serve, barriers can change frequently," says School of Pharmacy PharmD student Claudia Schmitt, an intern at the SVdP Charitable Pharmacy. "Yolanda and the staff at the pharmacy always make sure to check in with patients and really help address their needs."
Throughout the pandemic, Tolson and her team — including Cheryl Dull, lead pharmacy technician and volunteer coordinator, and Becky Mann, staff pharmacist — have been working to ensure that the patients of St. Vincent de Paul retained access to the medications and personalized care they need, despite new and amplified hurdles. On top of their usual services, the pharmacy has also added COVID-19 vaccine clinics every Tuesday and Thursday, open to anyone in the community.
"It is truly a privilege to provide care for those in the greatest need," says Tolson.
Overcoming obstacles during COVID-19
Tolson uncovered a passion for public health and community engagement while working at a federally-qualified health center in Milwaukee, Milwaukee Health Services, and then she set up the first federally-qualified health pharmacy in Madison, at the Access Community Health Center. She was a founding member of Charitable Pharmacies of America, where she continues to sit on the board, and in 2019 she was appointed to the Governor's Task Force on Reducing Prescription Drug Prices.
"Helping populations in need access their medications is what I really have a passion for," Tolson says.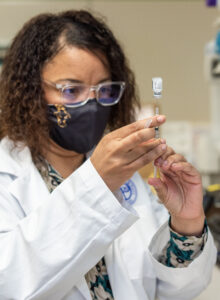 She was working at Access Community Health and at the School of Pharmacy as a clinical instructor — where she helps teach the Health Equity and Social Justice class available to health sciences students at UW–Madison — when she heard about the upcoming launch of the charitable pharmacy.
Tolson was hired as managing pharmacist in January 2013, and the pharmacy officially opened its doors just three months later, on April 1.
The Charitable Pharmacy is located in the basement of St. Vincent de Paul's on Fish Hatchery Road, so when the main building closed down at the onset of the pandemic in 2020, it cut off access to the pharmacy. Tolson and her team needed to quickly rethink their pharmacy's operations.
"We had to bring the medication and the counseling curbside," she says. "We had to reformulate our practice to meet the needs that existed and continue to exist."
The pharmacy also began giving patients a three-month supply of their medications, saving patients monthly trips to the pharmacy, which cut down on exposure risk and the complications of arranging for transportation.
"We are on the bus line, but people were avoiding public transportation when possible during the height of the pandemic, and our patients in particular have additional barriers that make it more complicated," she says.
The changes led to the SVdP Charitable Pharmacy filling nearly 1,000 prescriptions in a month, including around 450 in a five-day period. And while the requirement for pharmacist consultations was eased during the pandemic, Tolson and her team felt it was important to continue to have these patient conversations.
"I'm proud to say that we have never wavered in our commitment to give all of our patients a complete consultation about their medications and give them an opportunity to ask questions," she says. "Patients received the same level of care they were getting before the pandemic."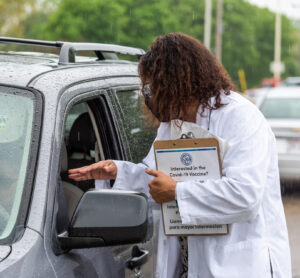 The SVdP Charitable Pharmacy helps about 400 Madison-area residents each year access medications for asthma, high blood pressure, high cholesterol, diabetes, and other conditions. The pharmacy contracts with Nashville-based Dispensary of Hope, a non-profit distributor of drugs donated by pharmaceutical companies, to receive most of their medications. The rest are obtained through donations and patient assistance programs.
"Those struggling to pay for their medication also often struggle with other social determinants of health, like secure housing and food," Tolson says. For that reason, the Charitable Pharmacy often refers patients to the St. Vincent de Paul Food Pantry, which assists over 1,000 individuals each month.
Because of the way the pharmacy sources its medications and reduced staffing during the pandemic, SVdP wasn't able to accept a large influx of new patients who might have suddenly found themselves without insurance in 2020. But near the end of the year, they started to accept more new patients with an episodic or situational loss of insurance.
"We were a bridge over troubled water for them," she says.
Passing the torch
The St. Vincent de Paul Charitable Pharmacy relies heavily on volunteer help, which comes most often in the form of retired pharmacists — such as longtime volunteer Don Michalski (BS '68, MS '74) — and student pharmacists.
Hundreds of UW–Madison students have volunteered or interned in the pharmacy; both pre-pharmacy and Doctor of Pharmacy students gain valuable experience in dispensing drugs and working with patients. According to Tolson, these students are an integral part of keeping the pharmacy staffed and functioning smoothly.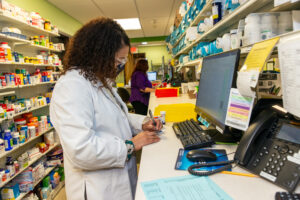 "Students tend to find our pharmacy to be a special place where they can gain comfort with pharmacy in a supportive environment," said Tolson. "Pre-pharmacy students get to interact with professionals from varying medical and healthcare backgrounds, hear their institutional knowledge and decide if pharmacy is the career for them."
Additionally, St. Vincent offers a competitive Summer Scholars internship program for PharmD students, who complete a clinical rotation centered around public health and community engagement.
Schmitt, a 2021 Summer Scholar, says she's never worked in an environment where everyone has been so warm and welcoming. And that extends to patient interactions, too.
"I think a lot of the patients we work with have been told by society or even through their interactions with the health care system that they are not a priority and not worth lending a helping hand to," says Schmitt. "Yolanda and the SVdP Pharmacy is taking the time to make Madison a healthier community not only through medicine but relationships, too, and making people feel like they matter."
PharmD student Emilie Feng, another Summer Scholar, agrees, saying that the experience has motivated her to continue to work in a setting where she's able to make an impact on a community level.
"Working alongside Yolanda showed me how to always be looking for ways to expand the scope of pharmacy services to benefit patients," she says. "I'll always remember the warmth and friendliness of the SVdP team."
"Working alongside Yolanda showed me how to always be looking for ways to expand the scope of pharmacy services to benefit patients."
—Emilie Feng
Beyond working in the pharmacy, the Summer Scholars develop a public health improvement project and attend numerous trips into the Madison community. Importantly, they also develop a love of serving their community and carrying on the pharmacy's mission, says Tolson.
"Their individual project allows them to lay their own brick in the foundation of St. Vinny's work," Tolson says. "Working with students has been an opportunity for me to share what I've learned and what I love with students so that they can gain a deeper understanding and appreciation for the communities that we serve and how to provide care with care."