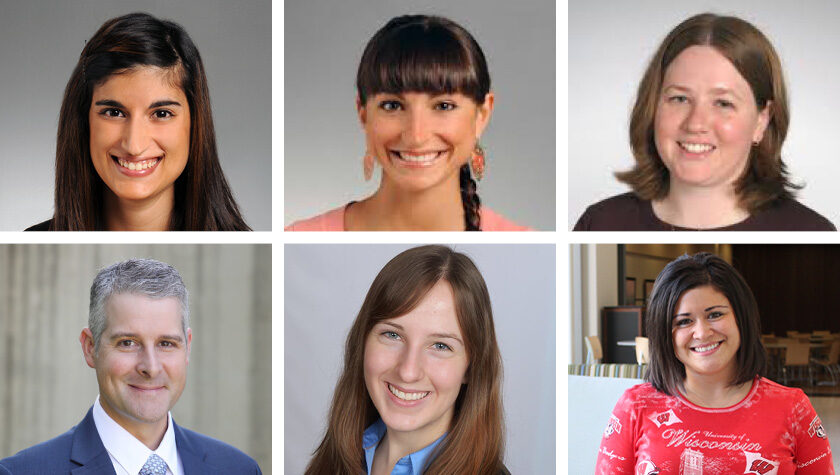 17
June
Innovative care model optimizes clinical pharmacy specialists in direct patient care roles, increasing veteran access to care 
By Katie Ginder-Vogel
"One of the primary national initiatives for the U.S. Department of Veterans Affairs is to ensure veterans have timely access to primary care, mental health care, and specialty care in an outpatient setting," says Andrew Wilcox (PharmD '01), the chief of pharmacy at the William S. Middleton Memorial Veterans Hospital (Madison VA). "Providing access to primary care can lead the way toward opening up access to mental health care and specialty care."
That's why in 2015, the Madison VA restructured their primary care delivery model to include full integration of clinical pharmacy specialists on Patient Aligned Care Teams (PACT), which has grown to a team of 15, including six alumni of the University of Wisconsin–Madison School of Pharmacy: Anita Kashyap (PharmD '12), Erica Wagner (PharmD '13), Maria Wopat (PharmD '10), Catherine Kuecker (PharmD '17), Julia Schiefelbein-Egan (PharmD '15), and Katrina Vogel (PharmD '05).
The Madison VA is the first PACT clinical pharmacy practice to receive the VA's Clinical Pharmacy Practice Office (CPPO) PACT Clinical Pharmacy Platinum Practice Designation, meaning they've built out the infrastructure and processes needed to execute the care model exactly as intended.
"The national office set very high standards and aspirational goals, and the fact that we are the first to be recognized under this framework as an ideal practice model is awesome," says Wilcox. "It also means we will help other sites on their aspirational journey to also get there, showing them what our patient care grids look like, how we partner with primary care providers, and to be a resource to other facilities for what's possible."
The platinum designation recognizes the sites that are excelling at addressing patient access, team integration, utilization of scheduling, nursing, and addressing a variety of disease states, Wilcox says.
"The Madison team focuses on innovation. Innovation is ingrained in their culture; it's just who they are."
—Shawn McFarland
"The Madison team focuses on innovation," says Shawn McFarland, the national clinical pharmacy practice program manager of the VA's CPPO. "Innovation is ingrained in their culture; it's just who they are. They try to find what veterans need and gravitate toward that in order to provide excellent timely care."
John Rohrer, director of the William S. Middleton Memorial Veterans Hospital in Madison, also praises the team.
"Many VA sites applied, but Madison was the only site in the nation to earn this designation," says Rohrer. "Kudos to Ellina Seckel, Anita Kashyap, Andrew Wilcox, Rochelle Carlson, Geri Abshire, the PACT Clinical Pharmacy Specialist Team, and the Primary Care Department on this well-deserved honor."
An innovative practice model
The national VA Pharmacy Benefits Management CPPO established the platinum designation to recognize the sites that have created innovative practices that maximize the impact of the PACT model and specifically integration of the clinical pharmacist provider.
PACT places the patient front and center. Each team includes one primary care provider, one registered nurse (RN), one licensed practical nurse (LPN), and a scheduler. That core team manages a panel of 900 to 1,200 patients, depending on whether a physician or a nurse practitioner is the primary care provider.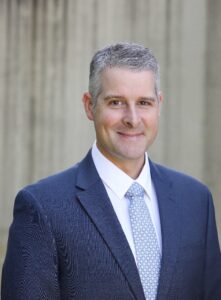 Each clinical pharmacy specialist (CPS) is assigned to around 3600 patients and has 50 to 60 unique appointment slots each week. 
"We're structured so clinical pharmacy specialists can function in a direct patient care role," says Anita Kashyap (PharmD '12), PACT clinical pharmacy specialist at the Madison VA. "About 80 percent of our time is dedicated to providing direct patient care."
Primary care providers and clinical pharmacy specialists see veterans face-to-face or via video or phone. The primary care provider focuses on acute conditions, new health issues, and physical assessment needs. Chronic diseases with lifestyle components and medication adjustments — such as diabetes, high blood pressure or cholesterol, anemia, substance use disorder, heart failure, chronic obstructive pulmonary disease,  vitamin deficiencies, and many others — are referred to the clinical pharmacy specialist for further management.
"Clinical pharmacy specialists manage any chronic disease where medications are a primary treatment," says Ellina Seckel, associate chief of pharmacy for ambulatory and specialty care at the Madison VA. "They have prescriptive authority under their own names and can start, stop, and change medications. Clinical pharmacy specialists also educate veterans on non-pharmacologic interventions to improve their care."
Clinical pharmacy specialists collaborate with primary care providers to manage new or chronic conditions and can order consults, place referrals, order lab tests and imaging — anything to manage chronic diseases. A separate team of pharmacists handles traditional pharmacy operations, like processing prescriptions and completing prior authorization reviews.
"Veterans benefit from this model because having pharmacists as key members of interprofessional teams allows a medication expert to partner with the veteran in optimizing medication use outcomes and helping to achieve their health goals," says Wilcox.
"Patients can call the clinic directly and ask for an appointment with their pharmacist, and that is really unique," says Kashyap. "To me, that's the utmost recognition, that they want to utilize the services we offer."
The remaining 20 percent of CPS' time includes providing unscheduled patient care, responding to consults or team members' questions, participating in team huddles, and completing leadership and population health management responsibilities.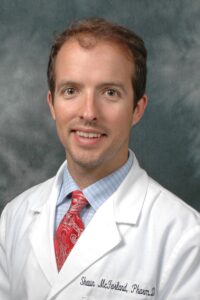 Patient population health management, which is supported by other team members including RNs, involves reviewing dashboards with information about high-risk patients and proactively reaching out to those patients.
"The infrastructure through which clinical pharmacy specialists are integrated is truly optimized," Seckel adds. "Ancillary support is critical to ensure patients get the full amount of time with their clinical pharmacy specialist provider."
"We want to identify practices that have integrated clinical pharmacy specialists into team-based care and demonstrated increased quality of care and timely access," says McFarland. "Our goal is for every VA primary care practice to be a PACT platinum practice for clinical pharmacy with a goal of veterans receiving the same care provided by the clinical pharmacist at every VA."
"The Madison VA PACT Clinical Pharmacy Specialist team's high level of practice creates trust among the other PACT team members, which allows for the integration and collaboration of clinical pharmacy and comprehensive medication management into team-based veteran care," says Rochelle Carlson, chief of primary care at the Memorial Veterans Hospital. "We are fortunate to have the expertise and leadership of the PACT Clinical Pharmacy Specialist team involved in the care of our veterans." 
Aspirational recognition
McFarland, who was part of the review process and interview panel to award the platinum designation, says the Madison VA's primary care providers utilize clinical pharmacy specialists for 20 percent of their panel's patients. 
"If you put that number into granular data, those clinical pharmacy specialists create, at a minimum, three extra weeks and 240 additional appointment slots for veterans to be seen," says McFarland. "The Madison VA is utilizing team-based care and referring patients to clinical pharmacy specialists for comprehensive medication-based management, which allows the primary care provider to see other patients."
"In addition to data showing the number of appointments the clinical pharmacy specialists provided, the Madison VA also shared information with the VA CPPO about which disease states they managed and the policies and procedures that support their infrastructure," says Seckel.
"We had to show that 80 percent of our time is dedicated to direct patient care," adds Kashyap. "It was cool to step back, see the big picture, and see we're meeting our goals."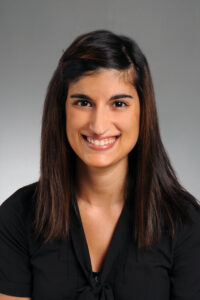 The optimized team structure has been in place at the Madison VA since 2015, when Seckel was a second-year pharmacy resident researching integration of clinical pharmacy specialists into the PACT model. She found that it improved patient access to primary care by 27 percent, including through virtual care.
"Even prior to COVID-19, 70 to 80 percent of patients utilized virtual care for clinical pharmacy specialist appointments, and now it's close to 100 percent virtual," says Seckel. "They can get appointments more easily, and it's convenient to get care from home."
As part of the review process, the CPPO interviewed the chief of primary care, chief of pharmacy, associate chief of pharmacy, PACT clinical pharmacy specialists, and nursing staff at the Madison VA.
"The level of camaraderie and team-based care they exhibited, all working together for the benefit of veterans, came across pervasively in their interview," says McFarland.
"We all talked about how this truly is a team recognition because without nursing support, pharmacy department support, and scheduling support, we couldn't provide the care we provide," Seckel says.
"Our clinical pharmacy specialists have and continue to be crucial for ensuring we are able to offer great access to primary care to our veterans," says John Good, group practice manager at the Memorial Veterans Hospital. "The PACT Clinical Pharmacy Platinum Practice Designation highlights their amazing work. We are fortunate to have such an amazing team."
Disseminating best practices
The national clinical pharmacy office plans to formally recognize the Madison VA in person when restrictions due to COVID-19 are no longer necessary, but in the meantime, the Madison VA will be sharing their PACT best practices with teams around the country.
"We have multiple national calls scheduled already, to allow questions from the field and let the entire team share their experiences," says McFarland.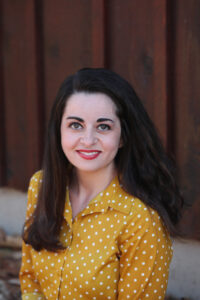 The PACT teams at the Madison VA have a history of being honored by the national office. The VHA developed a national competition for identifying and disseminating innovative practices nationwide, deemed Gold Status Projects. The Madison VA has won the competition twice in the five-year history of the program — and both times, the winning projects were led by pharmacists.
The first to win was Seckel's residency project, in which she found that primary care clinical pharmacy specialists increased access to primary care by 27 percent, in 2015. School of Pharmacy Associate Professor Ed Portillo's (PharmD '14) COPD CARE project — a pharmacist-led service that dropped the 30-day readmission rate from 18.4 percent to 0 percent, received Gold Status in 2018.
"As we continue to do these innovative things, have successful results, ask for support to expand them, and continue to show ongoing benefits, that builds the trust and support of our leadership team," says Wilcox. "They can count on pharmacy to be a solid partner in addressing challenges."
"They are a model practice," says McFarland. "I hope this designation allows other sites to see the challenges their team has overcome and how it can be done."
Collaborating with the School of Pharmacy
Kashyap, Seckel, and Wilcox emphasize the importance of the Madison VA's partnership with the UW–Madison School of Pharmacy. Ten School of Pharmacy faculty, including Portillo, Barry Gidal, and Susie Barnett (PharmD '04), have their clinical practices at the VA site and share that experience with PharmD students. 
"We have learners who come through required rotations, and faculty who bring students along to shadow clinical appointments at the VA," says Kashyap. "The faculty go above and beyond to get students the experiences that they want."
Wilcox remembers the VA residents who served as teaching assistants in the School's pharmacotherapy lab talking about their work in primary care.
"Our clinical pharmacy specialists have and continue to be crucial for ensuring we are able to offer great access to primary care to our veterans."
—John Good
"It included this whole idea of prescribing and managing medication therapy and being an integral team member," says Wilcox. "That resonated with me and inspired me to the point that I pursued residency at the VA and have continued my career at the VA ever since." 
The innovative environment of the School of Pharmacy paired with the progressive practice model at the VA, which puts pharmacists in direct patient care roles, allows pharmacy practice and health care in general to push the boundaries, he says.
"There is a mutually beneficial, synergistic relationship between the School of Pharmacy and our department," Wilcox adds. "Ultimately, veterans get better care because of that connection."