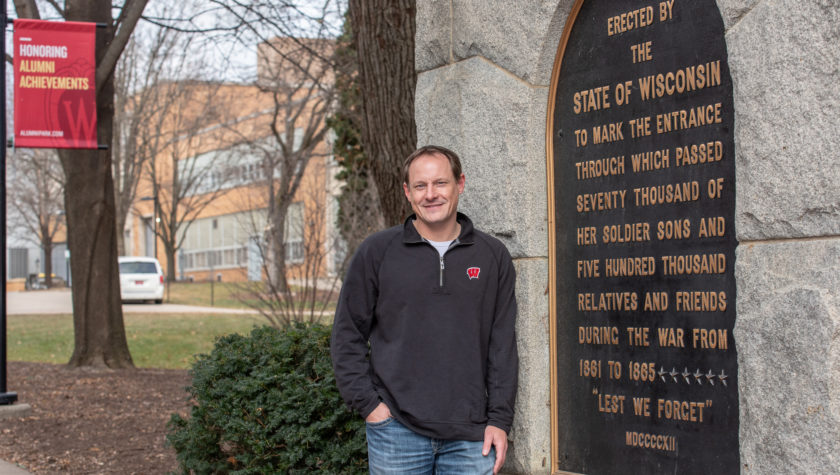 4
December
Photos by Ingrid Laas
Keeping touch after graduation is difficult, but we want to make it easier by sharing some alumni milestones, personal and practice interests, and cherished memories of time spent at the University of Wisconsin–Madison School of Pharmacy. If you haven't met already, here's your chance to get acquainted with Jason Lau (PharmD '01), manager and clinical pharmacist at Community, a Walgreens Specialty Pharmacy.
He's new in town (sort of)
After spending 14 years as a community pharmacist in Eau Claire, Wis., where he ran a 24-hour Walgreens store, he's moved back to Madison to open a new specialty pharmacy for Walgreens. After his long absence, he's looking forward to being back in Badger territory for game day. "I love Badger football," he says. "Game days are the best!"
He's the 2018 Man of the Year
Each year, the Leukemia and Lymphoma Society (LLS) of Wisconsin pits a group of people against each other for the chance to earn the titles of Man and Woman of the Year. This year, a group of 10 contenders waged a 10-week fundraising battle, and Lau emerged victorious.
"Between all 10 of us and our teams, we raised $133,000, so it was pretty awesome," he says. "It was an intense crash course in fundraising, but it was a great group of people."
He was introduced to the organization through his employment at Walgreens, and quickly gained an appreciation for the mission. "A lot of organizations do fundraising and then it goes to research, but for the Leukemia and Lymphoma Society, those funds go to so much more," he says. "They have personnel who are specifically dedicated to providing newly diagnosed patients with support through the difficult initial phases of their diagnosis, and they offer financial assistance and support patients in getting access to medications they might not otherwise be able to afford. I think it's the commitment to bringing costs down for patients and making medications affordable and accessible that really drew me toward LLS."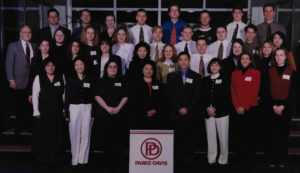 He's the proud owner of a '69 Cutlass
"When I was 15 years old, my grandpa and I fully restored my dad's 1969 Oldsmobile Cutlass, which I still have to this day—it's a little faster these days though."
His fond pharmacy school memories
"One of my favorite memories is of when we took a class trip to Ann Arbor, Mich., to the Parke-Davis research labs. We all took a tour and it was definitely a fun time that I'll never forget. The biggest thing I enjoyed about my time in pharmacy school is the camaraderie that I had with my fellow classmates. At one point, I lived with five classmates from the UW–Madison School of Pharmacy, and we are still friends to this day."
He's the new PAA Director
In fall 2018, Lau was elected the new director of the UW–Madison School of Pharmacy's Pharmacy Alumni Association (PAA)—an opportunity he hopes to use to facilitate a greater sense of community among alumni.
"I want to really make a connection with current students and get them excited about being an active member in the PAA to help push some of our goals for the profession forward. I'm still learning the ropes and thinking about out the direction we'll take, but we want to engage students and all PAA members to increase their participation and strengthen our network of colleagues who we can turn to for advice, collaborations, and other support to advance Wisconsin pharmacy."
He's passionate about medication access
"As a pharmacist, one of my biggest areas of interest is getting patients access to medications when they have high copays, when it's difficult for them to afford it, whether it means looking at options through the manufacturers, various foundations, and all avenues possible to support the patient financially so they can get access to their medications."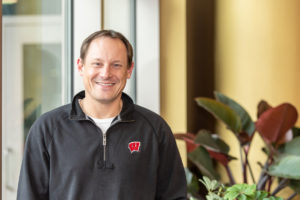 His pivotal professor
"The first person that comes to mind is Professor Beth Martin. We reconnected at the October Alumni Tailgate and it was great to catch up. I just remember that she was always very excited about patient care and she imparted that passion to us as students, and that drove me to do the best I could do for my patients."
He's a 10-year preceptor
Lau has been a committed School of Pharmacy preceptor for more than a decade, playing a crucial role in the development of our students in the PharmD program. "I learn probably almost as much from them as they do at the site," Lau says.
"There are so many things that continue to change over the years, but the student pharmacists are learning about all of the new practices and issues in pharmacy, and they share that new knowledge with us. Having them do presentations and talk through problems and clinical questions that come up are opportunities to reflect and see things from a different perspective. Seeing their excitement for being out in the real world experiencing pharmacy work in a practice setting and helping them grow—being able to provide leadership and knowledge and experience that they can use to further their career and their understanding of a pharmacy—is what really motivates me."
He's a second-generation pharmacist
Ronald Lau (BS '75), his father, was a hospital pharmacist and inspired his son to pursue pharmacy.
He switched practice settings
For the majority of his career, Lau worked in a community pharmacy. But since relocating to Madison, he's been getting his feet wet in the waters of specialty pharmacy, which he says has allowed him to develop an even stronger relationship with his patients.
"I work closely with patients and providers to navigate some of the roadblocks that can be more challenging in a community setting," Lau says. For specialty medications, which tend to be niche products, the price tags are higher—but in many cases, so is the importance. "We can go above and beyond to help them look for funding and other ways to improve their access to the medications, such as shipping it directly to their house or another pharmacy location. We spend as much time as we need to going over disease state education, medication use, and side effects monitoring with patients. There have been times where I've been on the phone for 30 or 45 minutes answering questions and making sure they understand their medication so the get the most out of it. Being able to take a step closer to patients and really become a part of their life to understand and help with their struggles is very fulfilling."