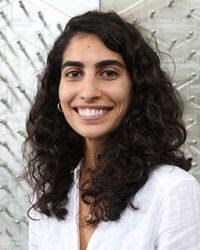 Nassim Sarkarati
PharmD Candidate, UW–Madison School of Pharmacy
Master of Public Health, UW–Madison
Nassim is currently a Doctor of Pharmacy candidate, Class of 2023, with a Master of Public Health (MPH) degree. She joined Dr. Shiyanbola's lab in spring 2020 after attending her lecture regarding public health in the pharmacy practice. Nassim appreciated that Dr. Shiyanbola's work combined both her passion for pharmacy and public health by focusing on community health promotion and health literacy.
After graduation, Nassim hopes to become a clinical pharmacist working in a clinic or hospital setting while intertwining public health. Previously she was not sure how to bring the two topics together, however, Dr. Shiyanbola's work showed Nassim the path to do so.
Aside from pharmacy school, Nassim enjoys teaching yoga as a way to find balance in her life while connecting to the community around her. Finally, Nassim loves walking and spending time with her dog, Scout.