Diverse
team members vary in age, race/ethnicity, and health science backgrounds
$5 Million
in grant funds received
33
students supervised (doctoral, PharmD, undergrad, and international visiting scholars)
Honors and Awards
2023 Mentorship Award (Dr. Shiyanbola), Society of Behavioral Medicine Health Equity SIG
2021 Meritorious and Citation Award Winner for Abstract "Development of a Culturally Adapted Illness Perception Questionnaire for African Americans with Type 2 Diabetes"
2021 NIH Fellow, OBBSR, National Heart, Lung, and Blood Institute, and Office of Disease Prevention Institute on Innovative Approaches to Randomized Behavioral Clinical Trials
2022 Best Overall Poster Award at 15th Annual Dissemination and Implementation Conference and Best Poster – health equity track, for co-authored abstract "Systems modeling to integrate health equity into implementation science: cultural adaptation of an implementation program for tele- ophthalmology in urban, low-income Black communities"
2021 Meritorious and Citation Award Winner for Abstract "Development of a Culturally Adapted Illness Perception Questionnaire for African Americans with Type 2 Diabetes" presented at Society of Behavioral Medicine Conference. Team members: Olayinka Shiyanbola, Deepika Rao (graduate student), Sierra Kuehl and Menggi Zhang (PharmD students), and Daniel Bolt (collaborator)
2019 Best Poster in Health Literacy Award for "Investigation of the Barriers and Facilitators of Medication Adherence among Patients with Type 2 Diabetes across health literacy levels", presented at International Conference of Communication in Healthcare/Health Literacy Annual Research Conference. Team members: Olayinka Shiyanbola and Yen-Ming Huang (graduate student alum)
2017 Charles E. Gibbs Leadership Prize for the best paper published in Women's Health Issues in for 'Does Cost-Related Medication Nonadherence among Cardiovascular Disease Patients Vary by Gender? Evidence from a Nationally Representative Sample' Team member: Olayinka Shiyanbola
2016 NIH Health Disparities Research Scholar, National Institute of Minority Health and Health Disparities Research Institute
2016 Best Poster Presentation Prize Winner for "Refining prescription warning labels: patient and pharmacist perspectives" presented at the International Social Pharmacy Workshop Team members: Olayinka Shiyanbola and Yen-Ming Huang (graduate student alum)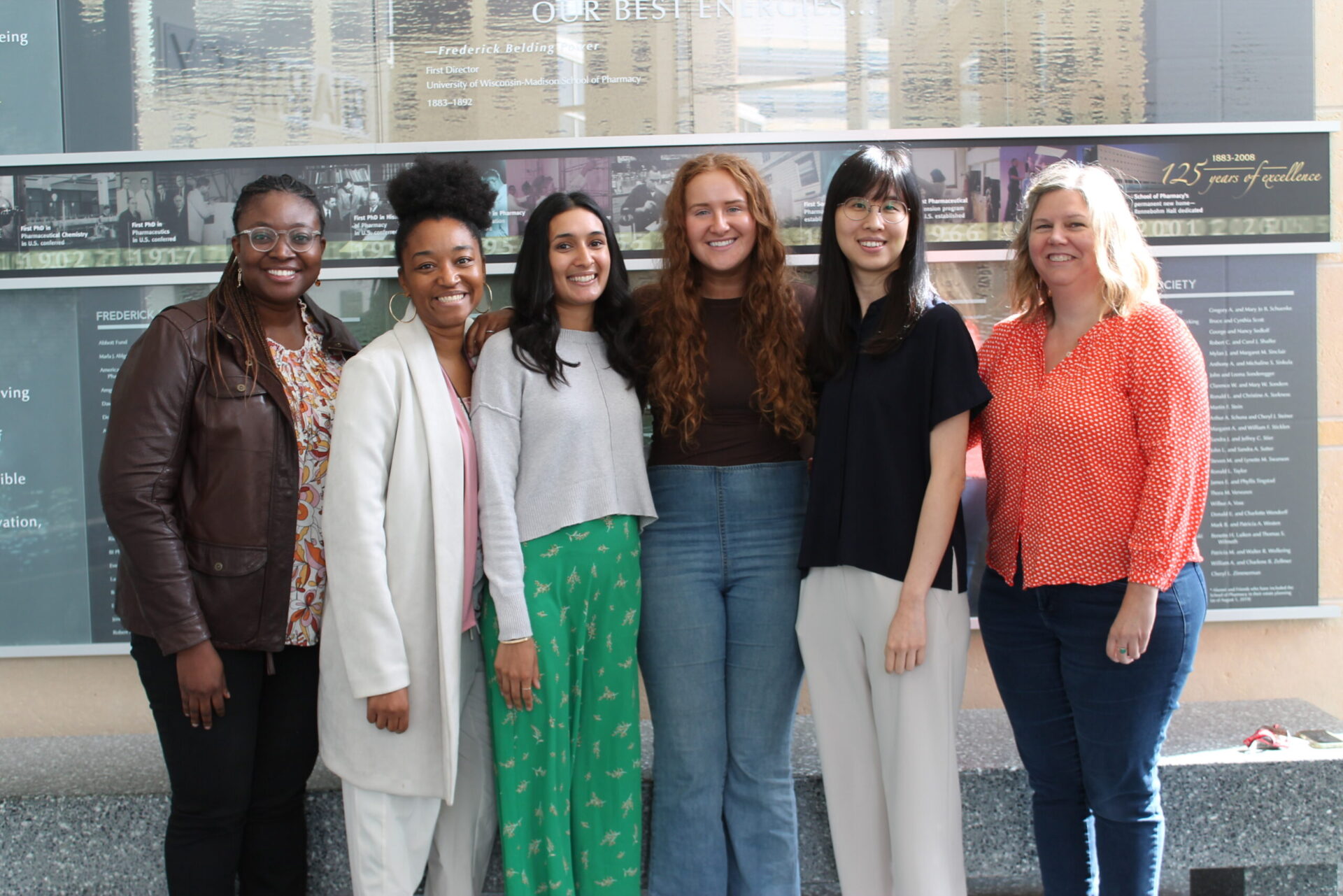 Welcome
The Shiyanbola Research Group is a diverse team of creative minds passionate about patient-centered interdisciplinary research improving medication taking behaviors, health literacy, and health equity.
In our welcoming environment, we conduct research that focuses on patient and community perspectives, stakeholder engagement, innovative scientific tools and methodologies, and improved health outcomes. We are a highly collaborative team, working with many other groups at UW–Madison, other US and international universities, clinics, pharmacies, community partners, social service organizations, and community-academic networks. Located at the University of Wisconsin–Madison School of Pharmacy, a top research university, the Shiyanbola Research Group members are supported with research and academic resources, mentoring, and networking opportunities with leading researchers.
Our diverse team is mentored by Dr. Shiyanbola, who has advised doctoral students, visiting international scholars, pharmacy students, and undergraduates with successful career trajectories. Our lab members hold first-author publications, are recipients of competitive scholarships, and are winners of teaching, abstract, and research presentation awards. We invite you to learn more, explore the exciting research occurring in the Shiyanbola Research Group, and meet the talented members of the team who are making a difference in advancing knowledge that improves the health of various marginalized communities.