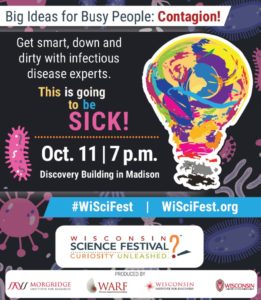 Big Ideas for Busy People is back with a twist! Infectious disease experts set the stage for this interactive exploration of the future of viruses, bacteria, antibiotics and vaccines.
This popular, fast-paced event features five-minute talks from some of UW-Madison's biggest brains. This year's episode turns a microscope on microbes—specifically, infectious diseases. What do we have to fear, what can we expect and what can we do to keep the tiny bugs at bay? Come prepared for a highly interactive event and stay after the talks to learn more, get your hands wet and see for yourself the creatures that are on, in and around us.
Speakers include: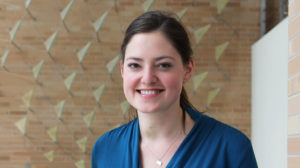 Laurel Legenza, School of Pharmacy, Partly Cloudy with a Chance of Antibiotic Resistance: An Interactive Surveillance Tool
Patrick Anderson, author of Autobiography of a Disease, on the experience of life-threatening illness
Paul Ahlquist, virologist, Morgridge Institute for Research, on broad spectrum antivirals as a response to unlimited emerging viruses
James Conway, pediatrician, UW Health, Making Every Shot Count: Why Vaccines Matter!
Jo Handelsman, director of the Wisconsin Institute for Discovery, on the search for new antibiotics
Join us at the Discovery Building for an evening full of surprises and fun!