Zografi Educational Advancement Fund
The George D. Zografi Educational Advancement Fund in Pharmaceutical Sciences was established to honor the distinguished career of Professor Zografi upon his retirement. The "Zografi Fund" supports undergraduate, graduate and professional students who are pursuing industry-based laboratory research projects directly linked with the Zeeh Pharmaceutical Experiment Station.  This educational support is intended to encourage and advance student activities related to pharmaceutical research and development of drug products at and beyond the UW–Madison, School of Pharmacy. To make a contribution, please click on any of the following links:
---
Dr. George Zografi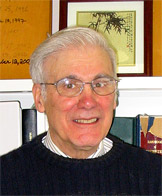 Dr. George Zografi is currently professor emeritus of Pharmaceutical Sciences at the UW- Madison. He is a prominent educator and researcher, and served as Dean of the School of Pharmacy from 1975-1980.
Dr. Zografi was a key advocate for the re-establishment of the STATION based on his passion for ensuring the continued effective application of the physical sciences and pharmaceutics to the development of drug products, at a time when industry must fill pharmaceutical development positions with chemists and engineers due to the lack of available pharmacy-trained scientists
---
Student Support Provided by the Zografi Fund
Caroline Hopkins – Research Assistant (Fall 2021, Spring 2022)
Alexa Barres – Research Assistant (Spring 2019)
Pawel Zbyszynski – Research Assistant (Summer 2018)
Zhenxuan Chen – Research Assistant (Summer 2017)
Yinshan Chen – Research Assistant (Summer 2015)
Rattavut "M" Terrakapibal – Research Assistant (Summer 2013, Fall 2013)
Tyler Matzinger – Student Research Assistant (Summer 2012)
Elham Nejati – Research Assistant (Fall 2011)
Thomas A Diezi – Research Assistant (Summer 2008 & Summer 2009)